The roll-call of names who have been given the Bidlake award presents a summary of the history of cycle-sport in Britain from 1934 to the present. Almost all the biggest names in the sport have been given this honour – but a few have not, and as we look back over the history of the award, it's worth asking why some people missed out. It has always to be remembered that an award like this is, in the last analysis, a subjective judgement made by a small group of men. It is not a clear-cut, objective achievement, as the winning of a championship or the breaking of a record is. The other controlling factor is that there is only one award per year, so again achievements that may be outstanding are still in danger of being overshadowed by others.
---
2022 - Cherie Pridham (Lotto-Dstny):
"For being the first female Sports Director of a Men's UCI World Tour Team".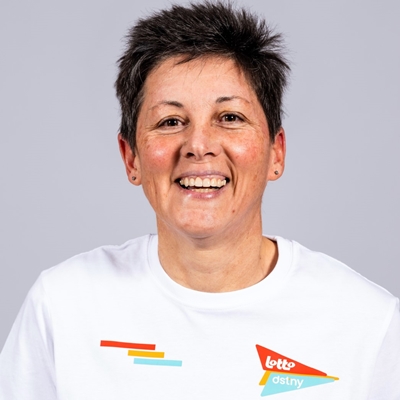 The nomination was also made in conjunction with her pathway, following a successful racing career, being a UCI Continental-level team manager through to her role as a 'Grand Tour' Sports Director.
Cherie replied: "To say I am honoured to receive this prestigious award is something of an understatement. Having studied the roll call of previous winners I feel very privileged to be associated with some of cycling's true icons. Whilst the long standing Bidlake award stretches back to a bygone era it is abundantly clear that it has kept up with the ever changing landscape within professional cycling by acknowledging the role that women now play in our sport."
2021 -
Alex Dowsett (Israel Start-Up Nation):
"Former World Hour Record Holder and Grand Tour Stage Winner for raising the awareness of haemophilia in sport, and his charity "Little Bleeders", as he is the only known able-bodied sport person to compete at Elite level with this condition."
2020 - Jonathan Shubert (Artic – Aircon RT):
"In November 2020, Jonathan Shubert set a new RRA 100-mile 'straight out' record in a time of 2 hours, 57 minutes, 58 seconds, breaking the previous record of 27 years and becoming the first man under the three-hour barrier."
2019 - John Barclay (Festival Road Club):
"For his outstanding voluntary work, in taking young riders to Europe and inspiring them to achieve their potential."
2018 - Michael Broadwith (Artic – Tacx RT):
"For his extraordinary and inspiring achievement in breaking the End-to-End record with a time of 1 day, 19 hours, 25 minutes, 13 seconds."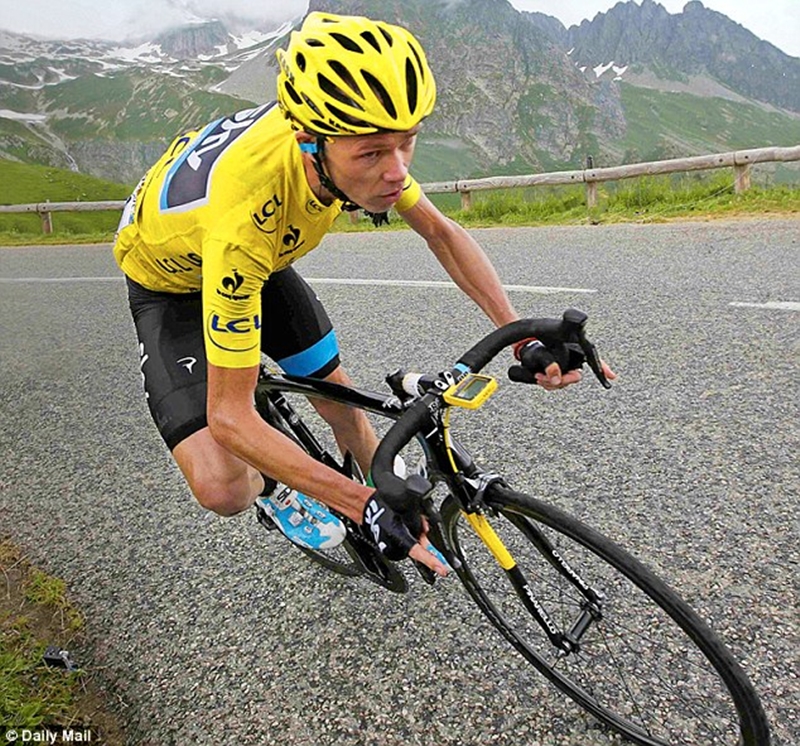 2017 - Chris Froome. Awarded to Chris Froome in recognition of his achievement of winning the Tour de France for the fourth time, then being the first British rider to win the Vuelta a España in the same year.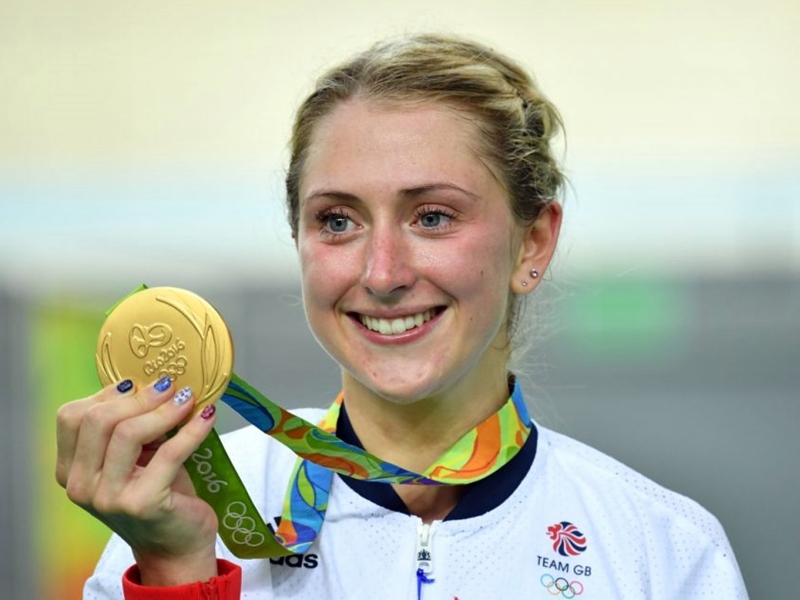 2016 - Laura Trott. Awarded to Laura Kenny in recognition of her achievements as Britain's most successful Olympic female competitor in any sport.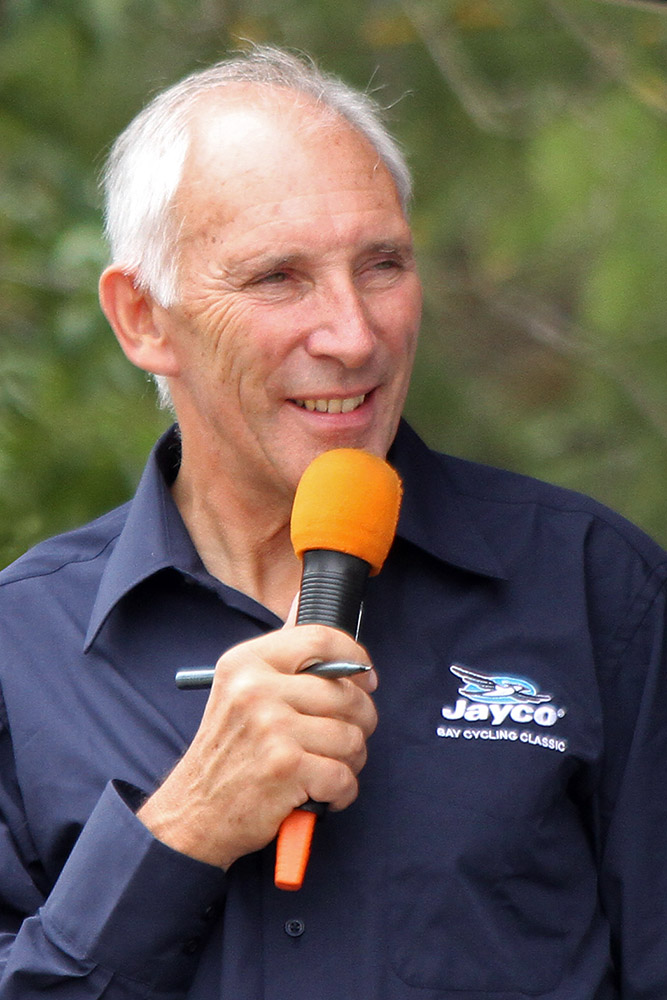 2015 - Phil Liggett MBE, was awarded 2015 FT Bidlake Memorial Prize for a lifetime of services to cycling.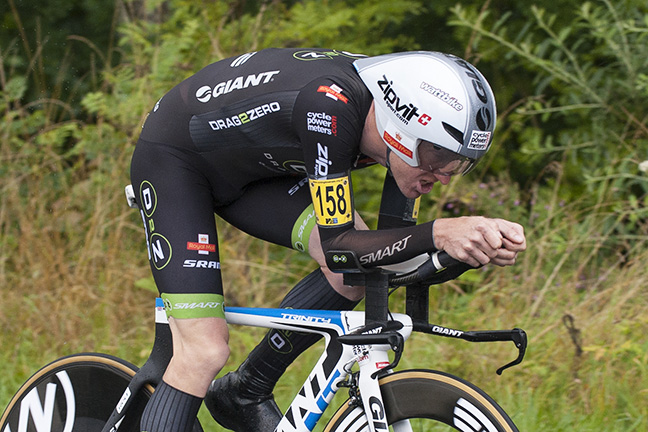 2014 - Matt Bottrill. Awarded to Matthew Bottrill who won the Men's National Championships at 10, 25 and 50 miles, the RTTC Circuit Championship, breaking three competition records and being crowned Champion of Champions.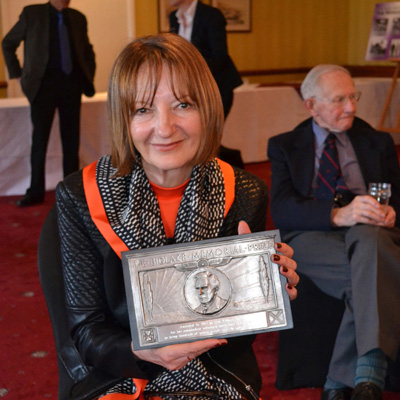 2013 - Dot Tilbury had for over twenty years organised junior cycling events, competitive and non-competitive, in the Isle of Man. These events have brought thousands of young people into the sport, among them Mark Cavendish, and they are a reminder that cycling has to begin at grass roots amateur level. Dot's award recognises the dedication of all the people who work in this way to ensure that the sport continues and has a future, and not only for Olympic or World Champions.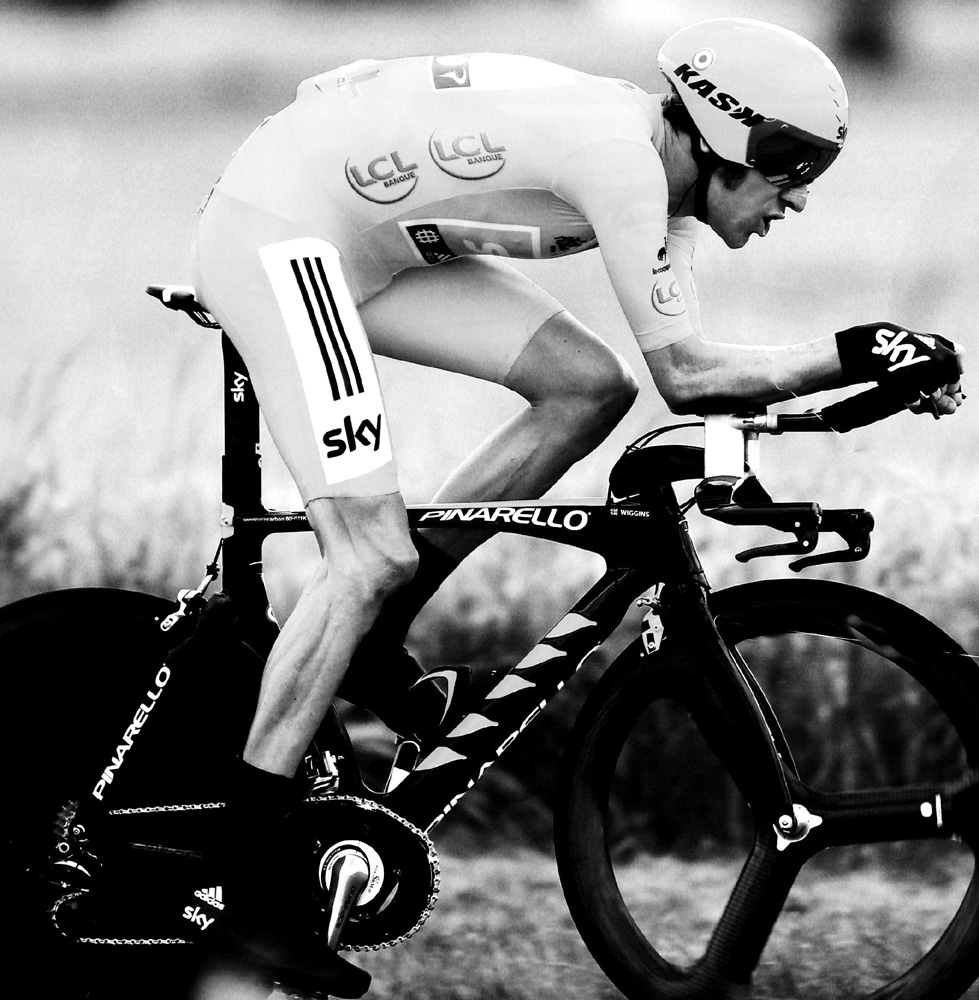 2012 - Sir Bradley Wiggins achieved what had seemed to be an impossibility: he became the first Englishman to win the Tour de France. Before concentrating exclusively on road racing, Wiggins had already won the individual pursuit gold medal at both the Athens and the Beijing Olympics. One week after his Tour victory, he took the gold medal in the London Olympic time-trial, to become unquestionably the all-time king of British cycling, his uniqueness recognised in his knighthood announced later that year.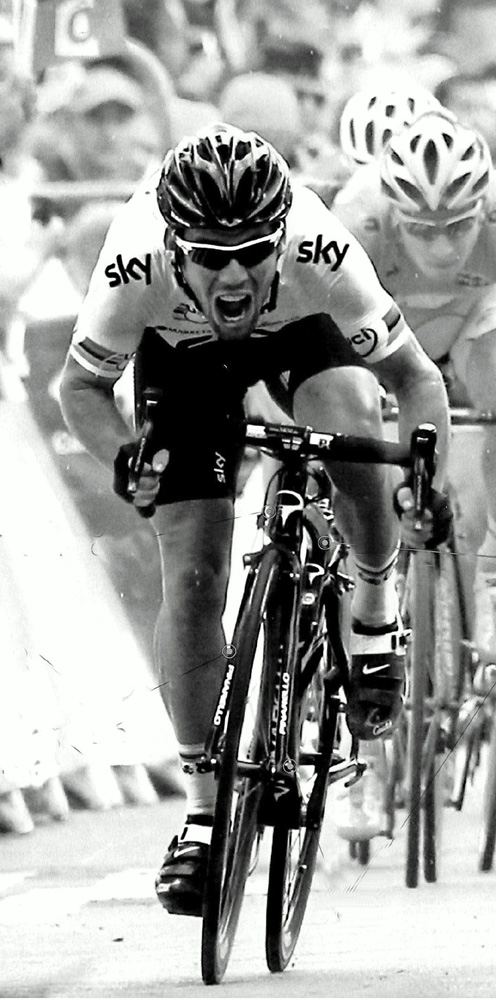 2011 - Mark Cavendish won the World Professional Road Race, only the second British rider ever to take this title. Cavendish had already become the most successful road sprinter in the world, with multiple stage-wins in the Tour de France and the Giro d'Italia to his credit.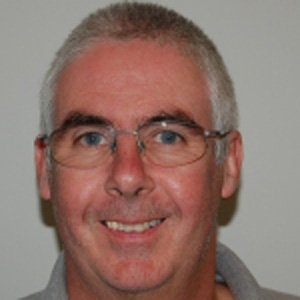 2010 - Philip Heaton's award was for his outstanding contribution to the sport, as National Secretary of Cycling Time Trials, formerly the RTTC.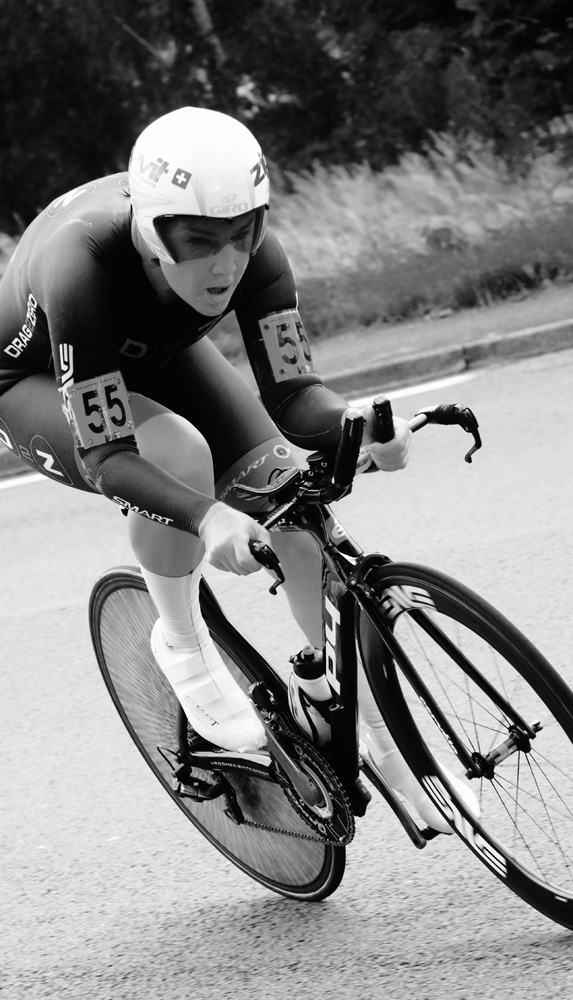 2009 - Julia Shaw was the dominant figure in women's time-trialling from 2006–2012. In 2009 she won the women's BBAR at a record average speed of 27.451 mph, taking four national championships and breaking two competition records.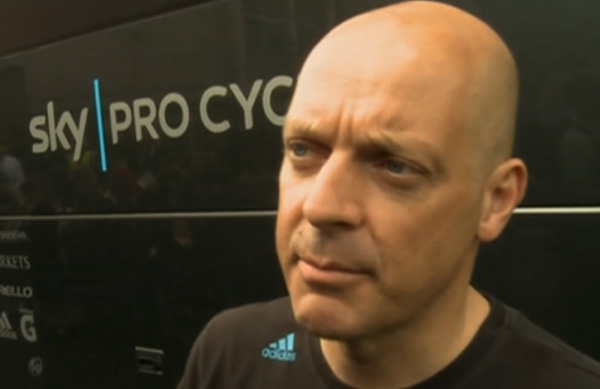 2008 - Dave Brailsford CBE, for his role as Performance Director of British Cycling, in leading the Great Britain team to unprecedented success at world level on road and track.
2007 - Peter King was rewarded for his management and leadership skills in reviving the fortunes of the B.C.F., now British Cycling, over the past decade.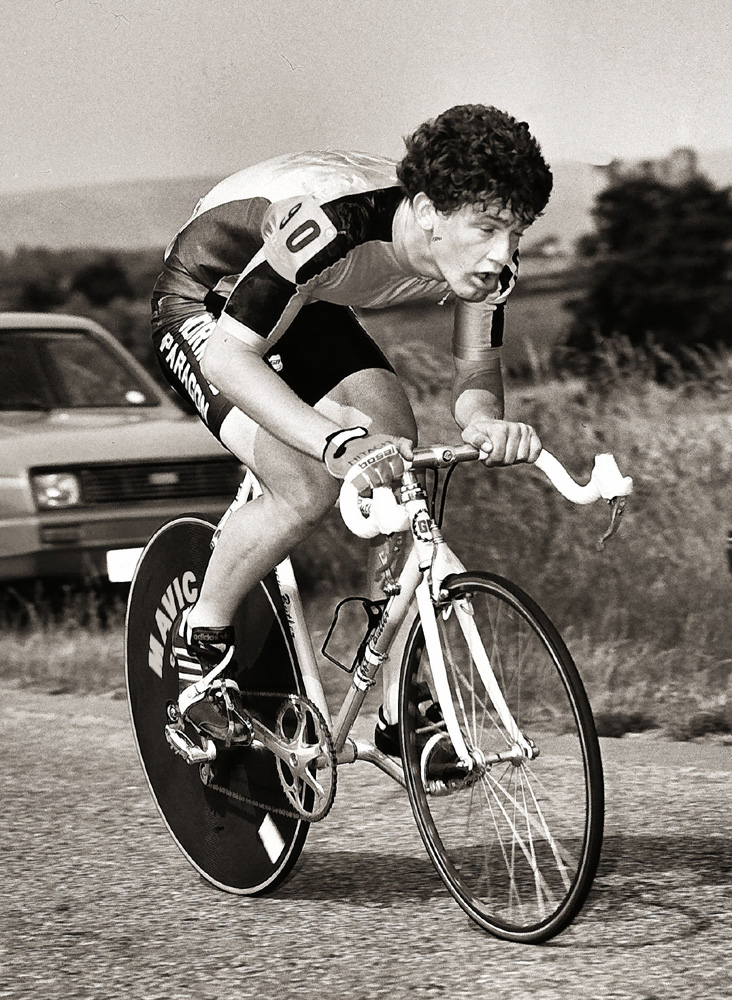 2006 - Gethin Butler was given his award officially for his victory on this year's National Time-Trial Series. But this was probably another retrospective award, recognising his two BBAR titles from 1994 and 1995, his many National Championship victories at 100 miles, 12 hours and 24 hours, and his superb End-to-End and 1000-mile record rides in 2001.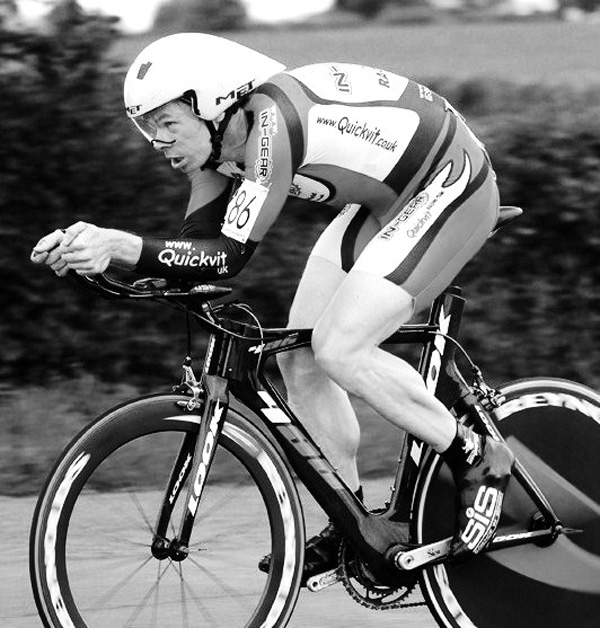 2005 - Michael Hutchinson was the most consistently successful time-triallist of the years 2000-2012. In 2005 he achieved an astounding string of victories, winning five National Championships from 10 miles to 12 hours, plus the BBAR title.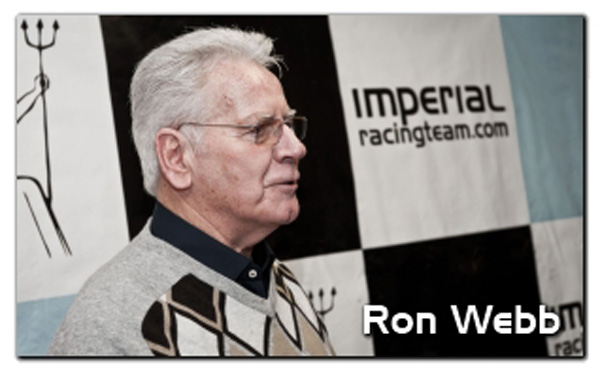 2004 - Ron Webb, for his work as designer and builder of more than sixty indoor racing tracks worldwide, including Manchester. The latter played a key role in the development of top-level British track performance, seen at the successive Olympics in Sydney 2000, Athens 2004 and Beijing 2008. He was the natural choice to build the London 2012 Olympic velodrome. Webb, himself a former trackman, was the second Australian to be given the award, exactly seventy years after Hubert Opperman.
2003 - There was no award.

2002 - Keith Butler is the founder and moving spirit behind the Surrey Cycle Racing League, which for over twenty years has organised a full programme of road-racing, especially at grass- roots level.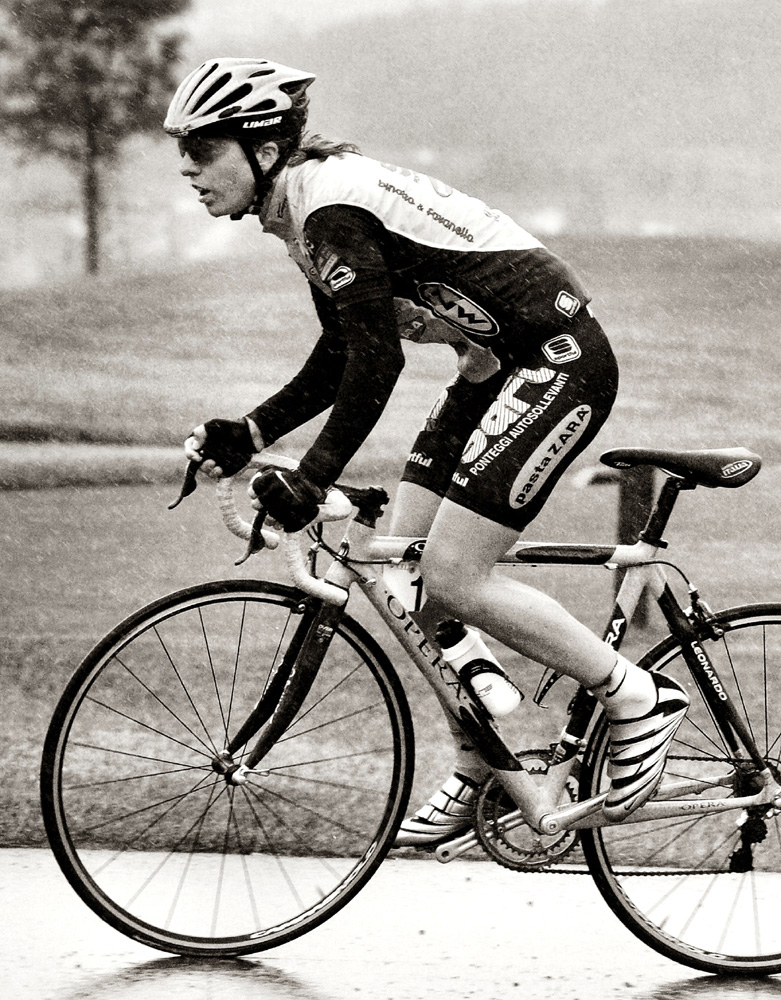 2001 - Nicole Cooke, the only junior ever to be awarded the Bidlake, no one could ever have done more to deserve it. Nicole won three Junior World Championship gold medals – the time-trial, the road race, and the mountain bike race, having previously won the road-race in 2000. The highlight of her career would come in the 2008 Olympics when she won the road-race in such a thrilling fashion. She also won the women's Tour de France two years running.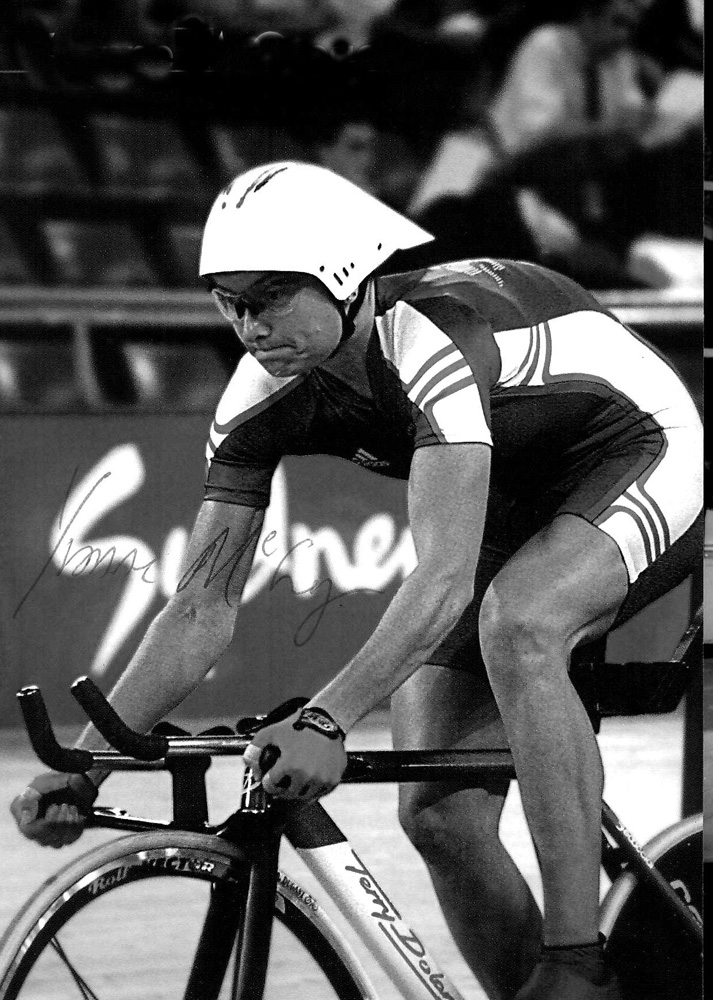 2000 - Yvonne McGregor was one of Britain's most successful ever women racers. In this year she won the pursuit bronze medal at the Olympic Games in Sydney, and took gold in the same event at the World Track Championships.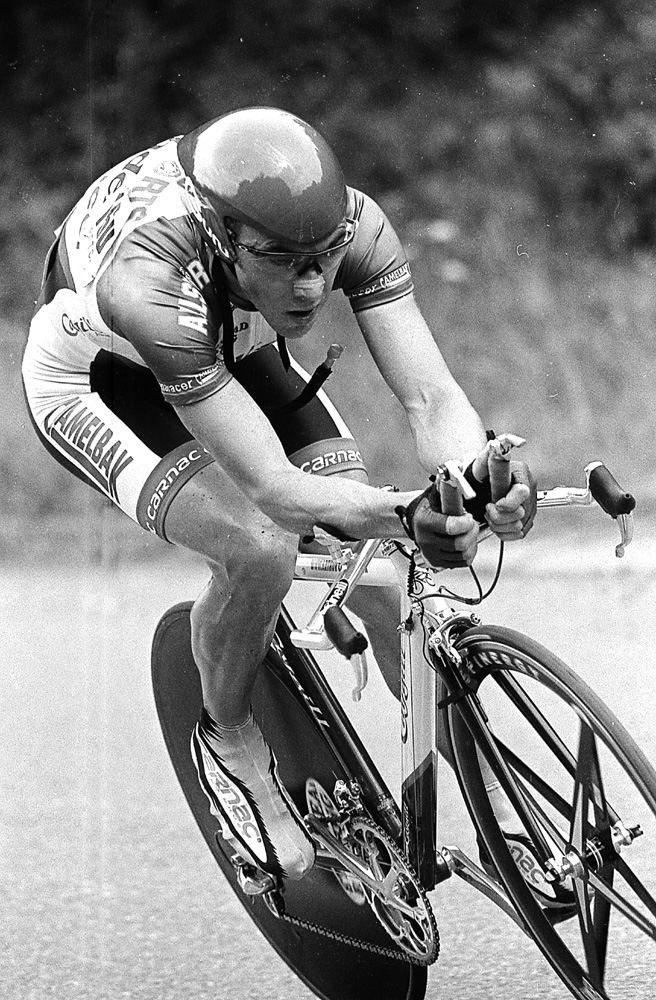 1999 - Kevin Dawson won his fifth BBAR title in this year, and took the silver medal in the National Road Race Championship – thus coming closer than anyone else to repeating Arthur Metcalfe's feat of 1966. Dawson would go on to become all-time king of the BBAR with eleven victories.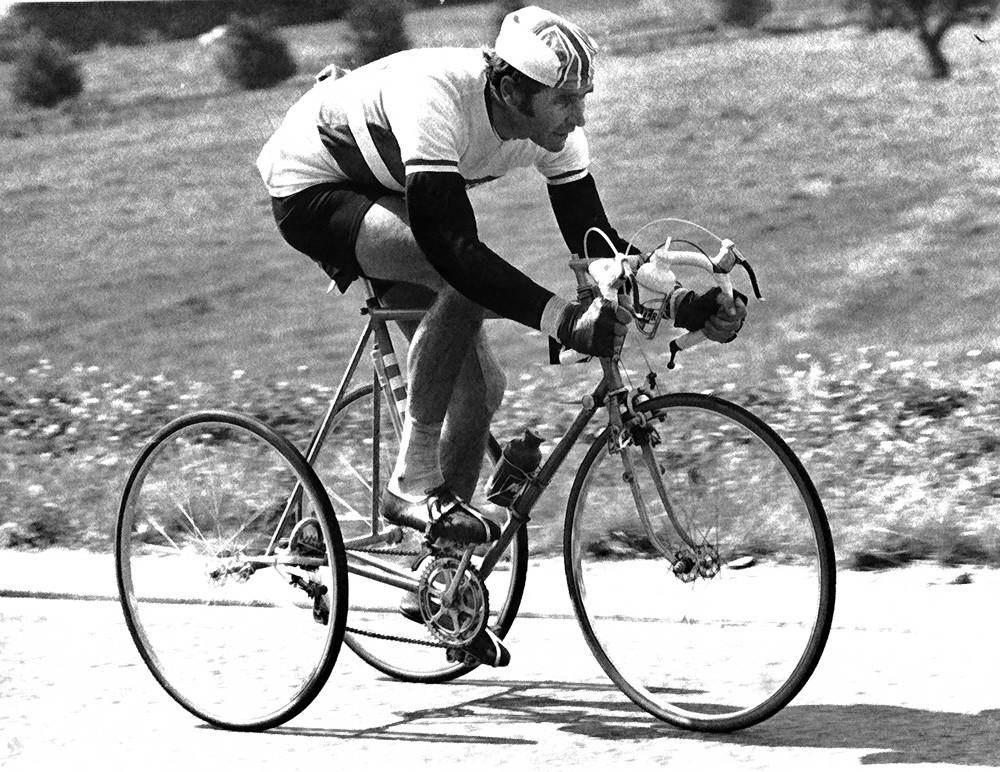 1998 - David Duffield had become the most famous and best-loved television cycling commentator, for his ability to spin an endless story through hours of racing.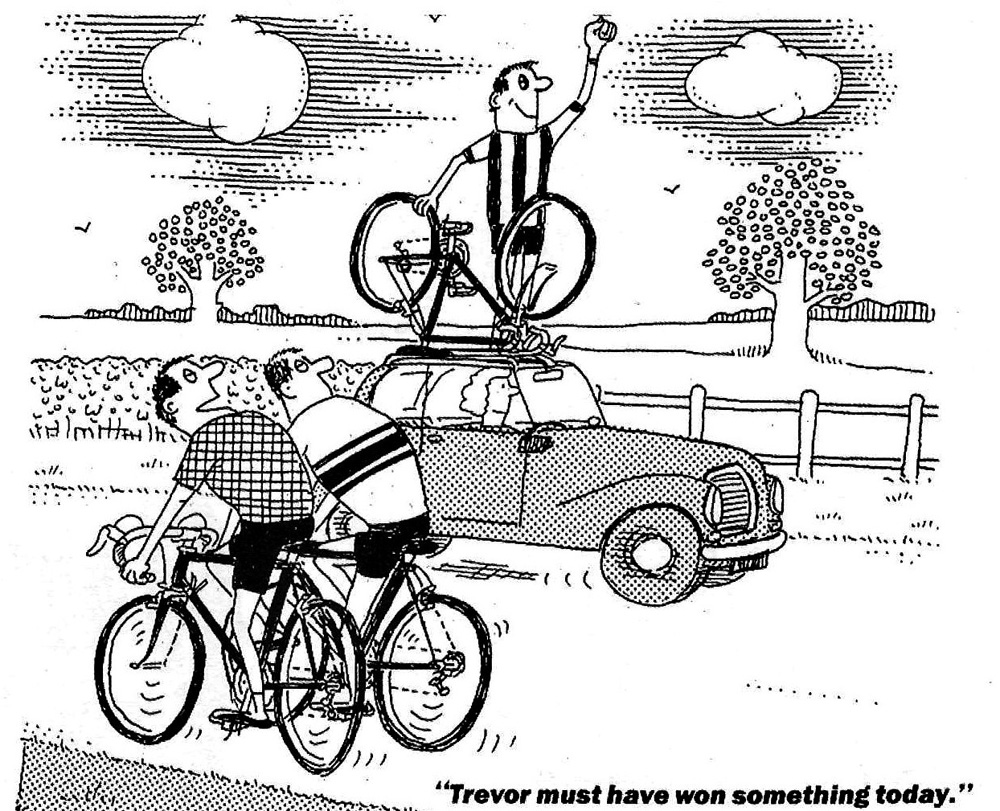 1997 - Johnny Helms was the second artist, after Frank Patterson, to be given the Bidlake award. Helms's delightful cartoons had appeared in Cycling Weekly for over fifty years, and had become part of the mental landscape of every British cyclist. The antics and humiliations of his anti-heroes, Baz and Honk, expressed the eternal frustrations and the rare triumphs of the common man-on-a-bike.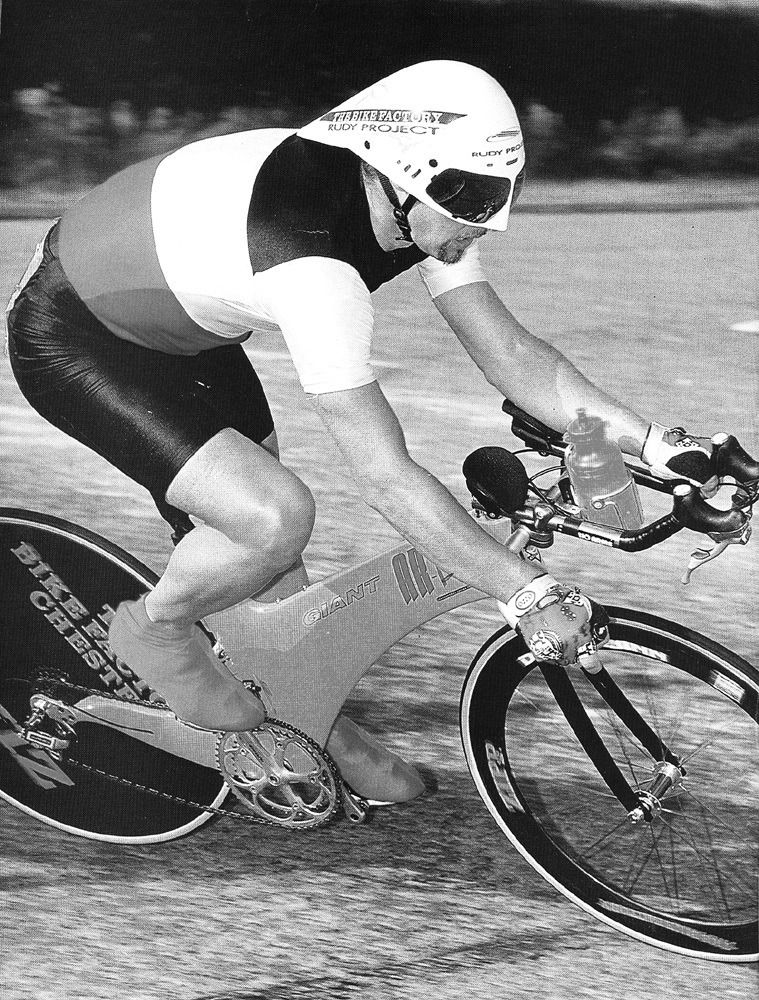 1996 - Andy Wilkinson took the BBAR title in the most convincing style ever seen, setting new competition records at all three distances, as well as winning National Championships at 100 miles and 12-hours. At this date he was also the End-to-End record holder.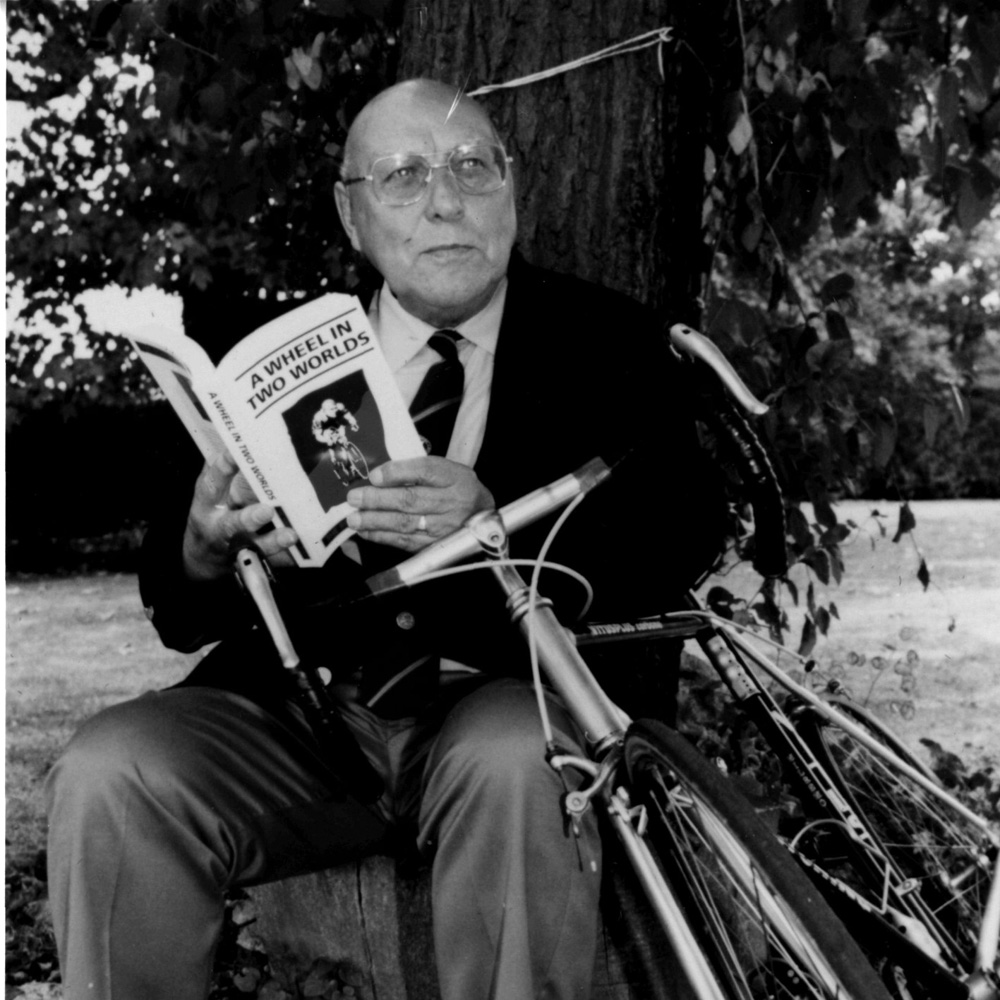 1995 - Ron Kitching was a highly successful bike-dealer, known as "Mr.Everything Cycling," who used his wealth to encourage and promote many aspects of the sport. In 1995 he sponsored the 50-mile time-trial that marked the centenary of the sport founded by Bidlake himself in 1895.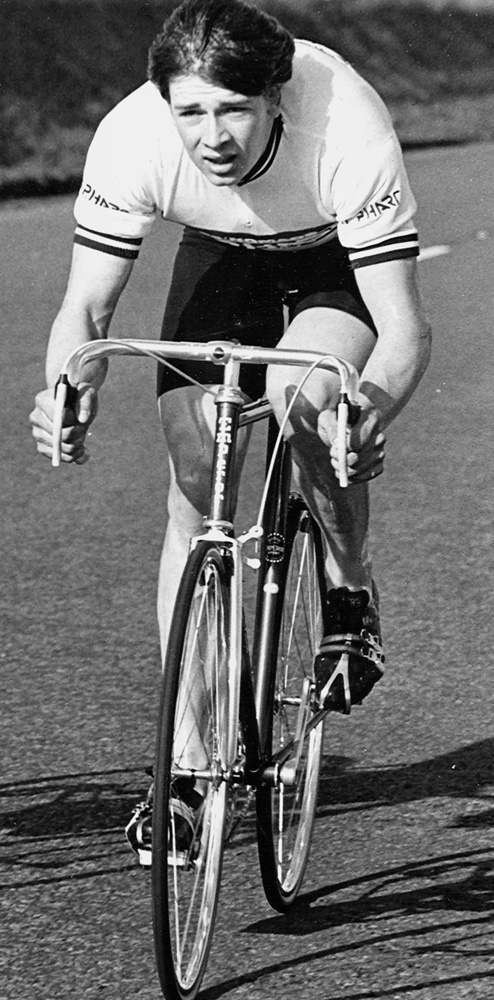 1994 - Sean Yates held the yellow jersey in the Tour de France this year, the culmination of his long and successful career of professional racing on the continent.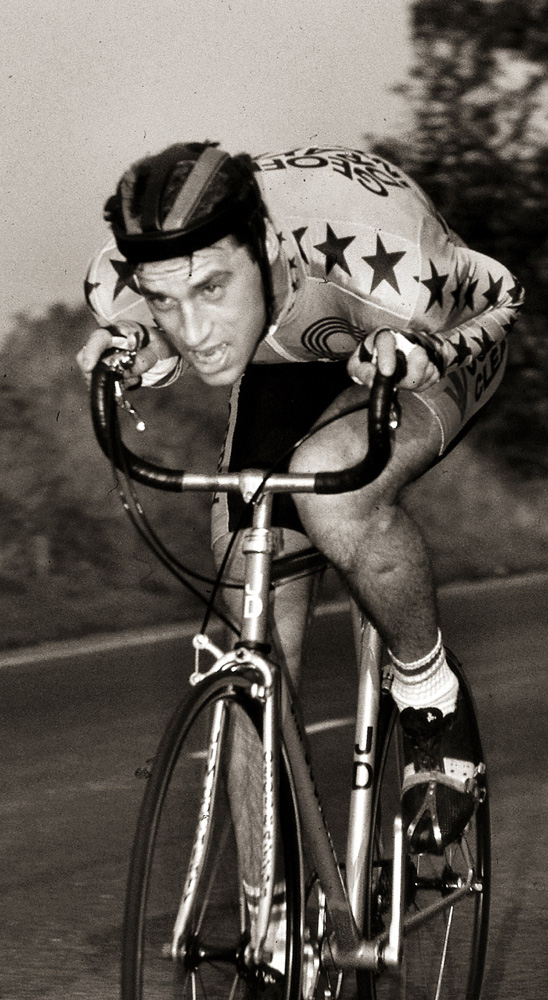 1993 - Graeme Obree. Exactly contemporary with Boardman, Obree also broke the World Hour Record. He defeated Boardman for the World Pursuit Championship, and, in domestic competition, set new time-trial records at 10 miles and 50 miles. Obree was a self-taught individual genius, who rode a bike of his own unique design.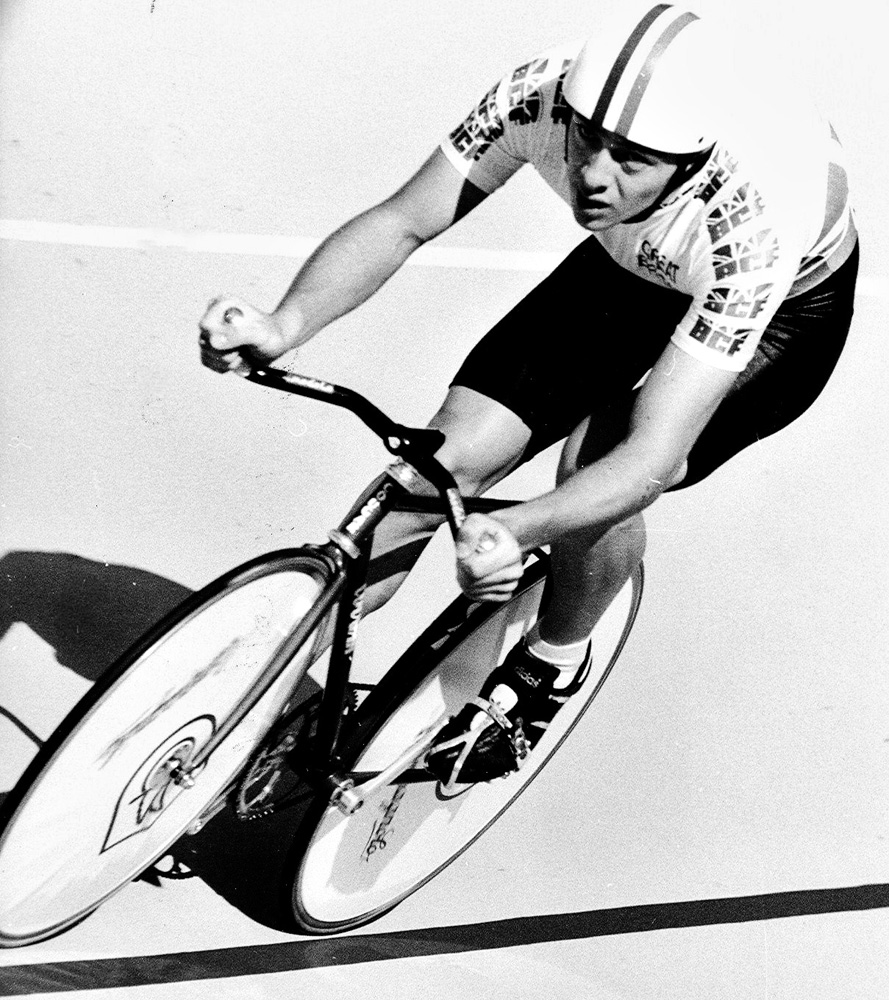 1992 - Chris Boardman. Boardman won the Olympic Pursuit title in Barcelona with a sensational ride on his revolutionary Lotus bike. This was Britain's first individual Olympic cycling gold medal since 1908. Boardman would later break the World Hour Record and win three Tour de France prologues. His career was probably the most influential ever seen in British cycling, raising the profile of bike-racing to a new level of public awareness.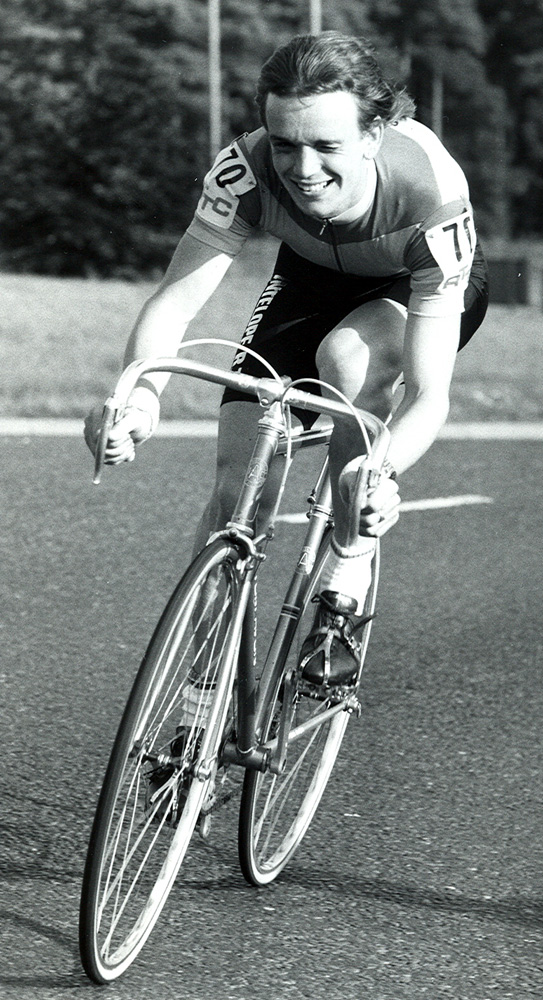 1991 - Glenn Longland broke a classic time-trial barrier which many had thought impossible, becoming the first man to top 300 miles for the 12-hour. This great ride helped to give him BBAR title for this year.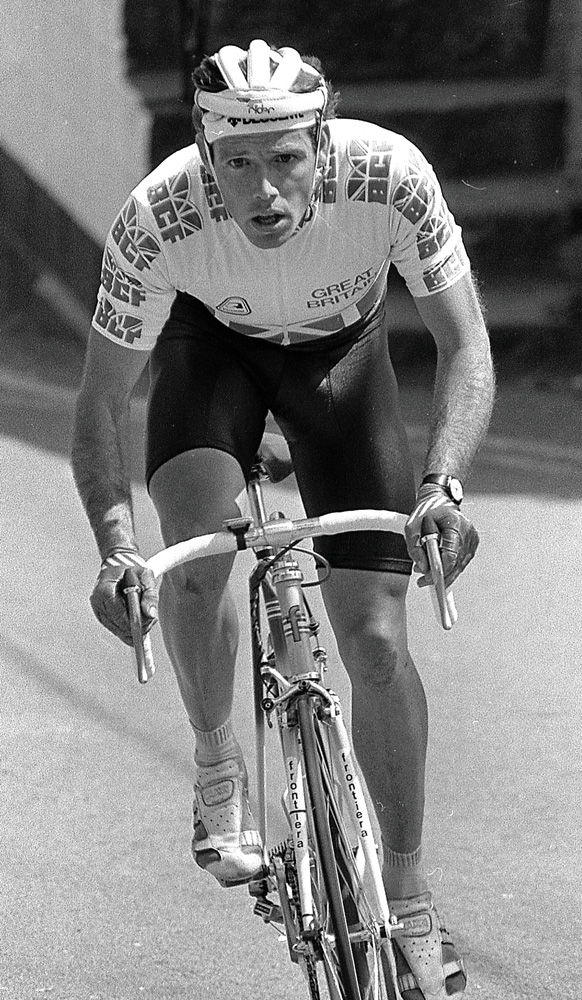 1990 - Pete Longbottom was an all-round roadman, whose award was given for multiple time-trial achievements in this year: he won the National 100-mile Championship, broke the national 25-mile record, becoming the second man ever inside 50 minutes, and he set a new RRA 50-mile record of 1:30:14.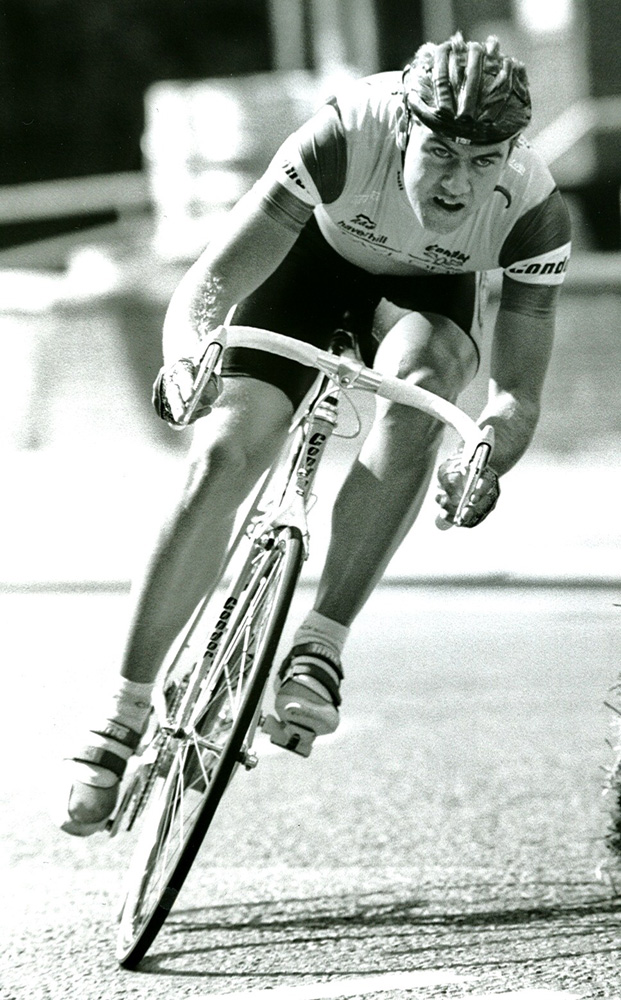 1989 - Colin Sturgess, for his brilliant victory in the World Professional Pursuit Championship, at the age of twenty.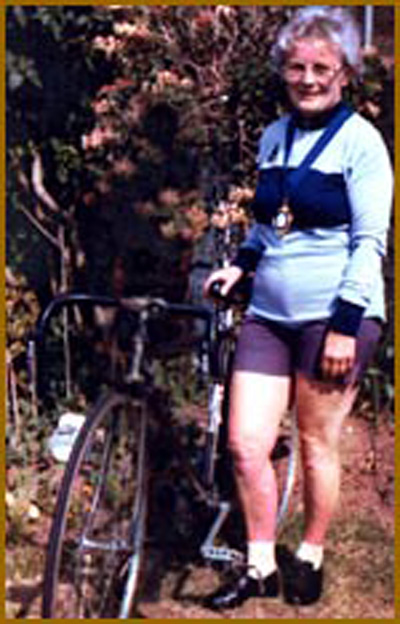 1988 - Ivy Thorp, President of the Cyclists' Touring Club, for her dedicated work for the welfare of cyclists at local and national level.
1987 - There was no award.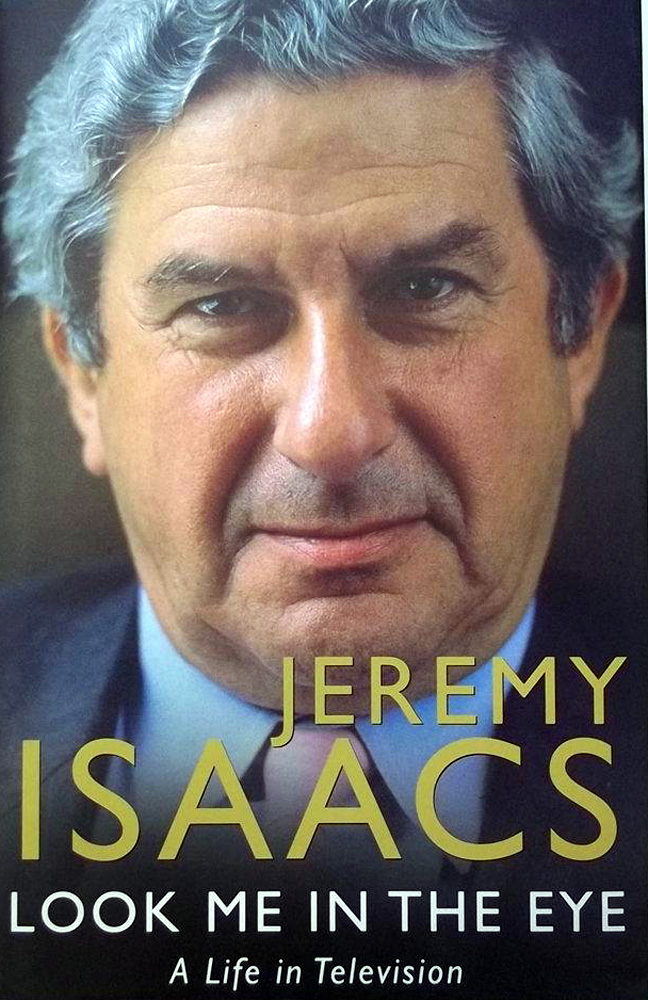 1986 - Jeremy Isaacs was the head of Channel Four television who inaugurated a new era in the public face of cycling when he televised the Tour de France, which has remained a summer TV fixture ever since.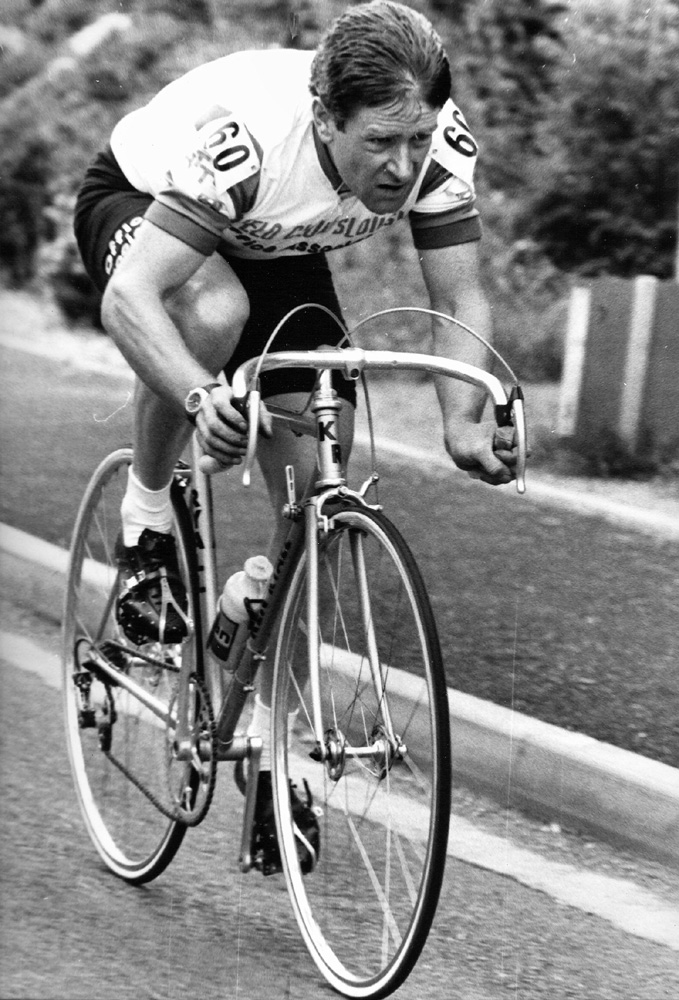 1985 - John Woodburn. In this year Woodburn won the VTTA BAR title for the third time, but his award was probably in recognition of his many years of outstanding time-trialling achievements, from the National 25-mile Championship back in 1961, to his End-to-End record in 1982. Woodburn was the original super-vet.
1984 - There was no award.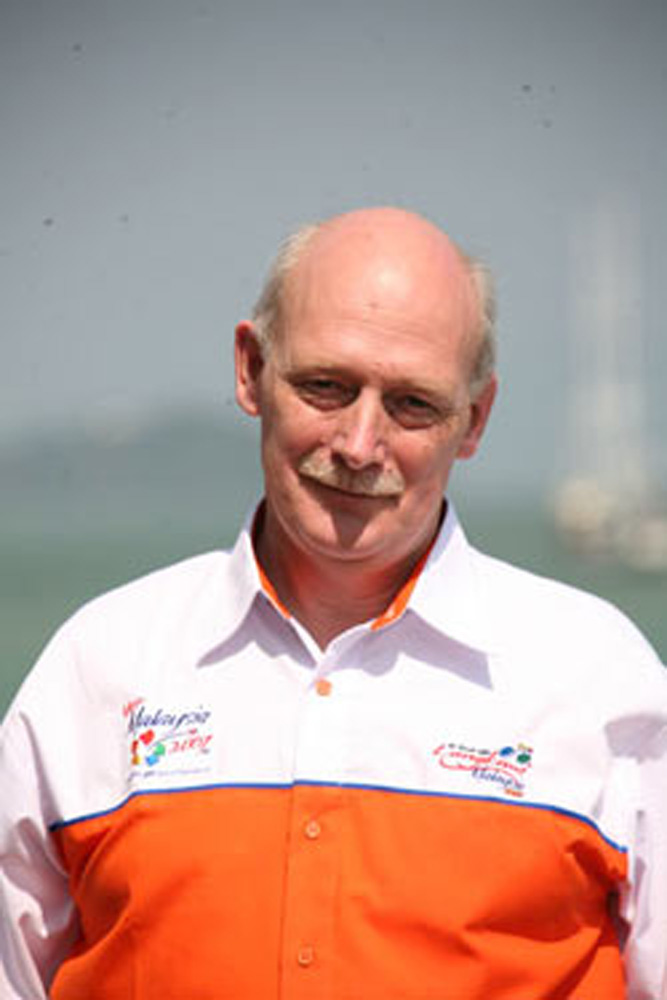 1983 - Alan Rushton made a huge impact on the public perception of bike-racing when he organised his series of city-centre criteriums, contested by the country's leading professionals, and had them broadcast on television.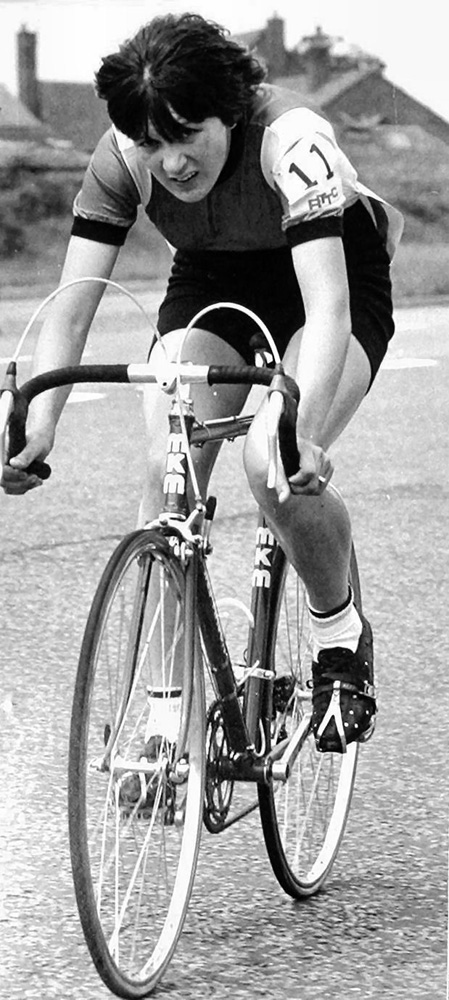 1982 - Mandy Jones won an outstanding solo victory in the Women's World Championship road-race at Goodwood, at the age of only twenty. As a time-triallist and road-racer, her successes marked the opening of the post-Beryl Burton era.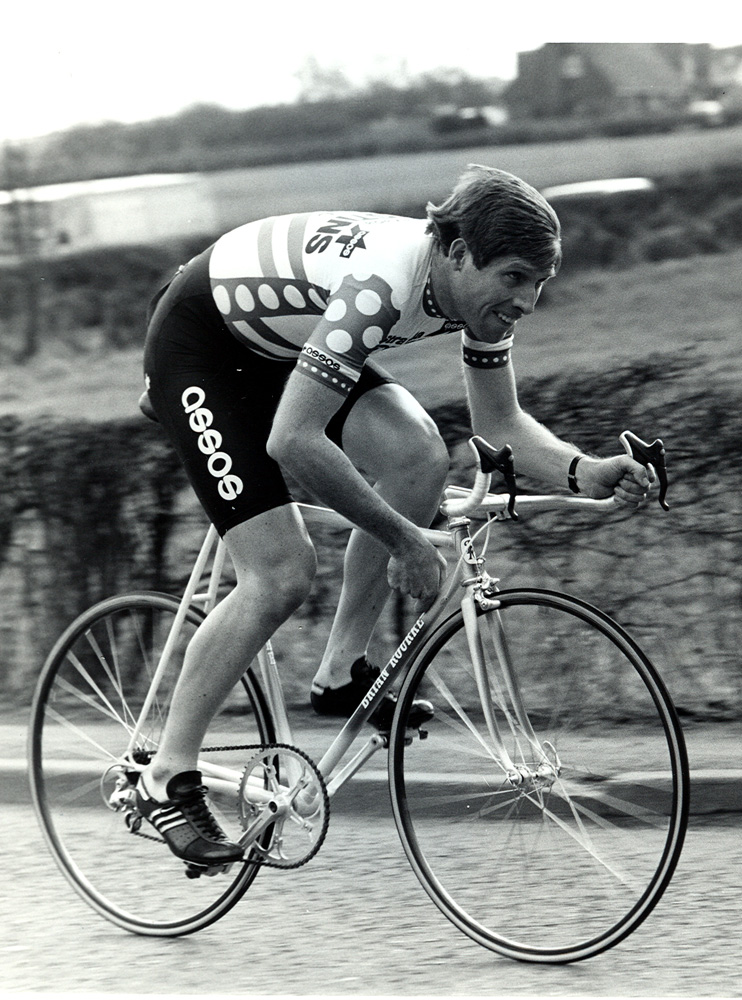 1981 - Ian Cammish. A giant of time-trialling in the mould of Southall and Booty, Cammish won the 100 championship in a competition-record time, and also put up the five fastest 100 times of the year. He would go on to many more championship victories and even faster records, becoming one of those riders who have been given the Bidlake award before they achieved their greatest feats.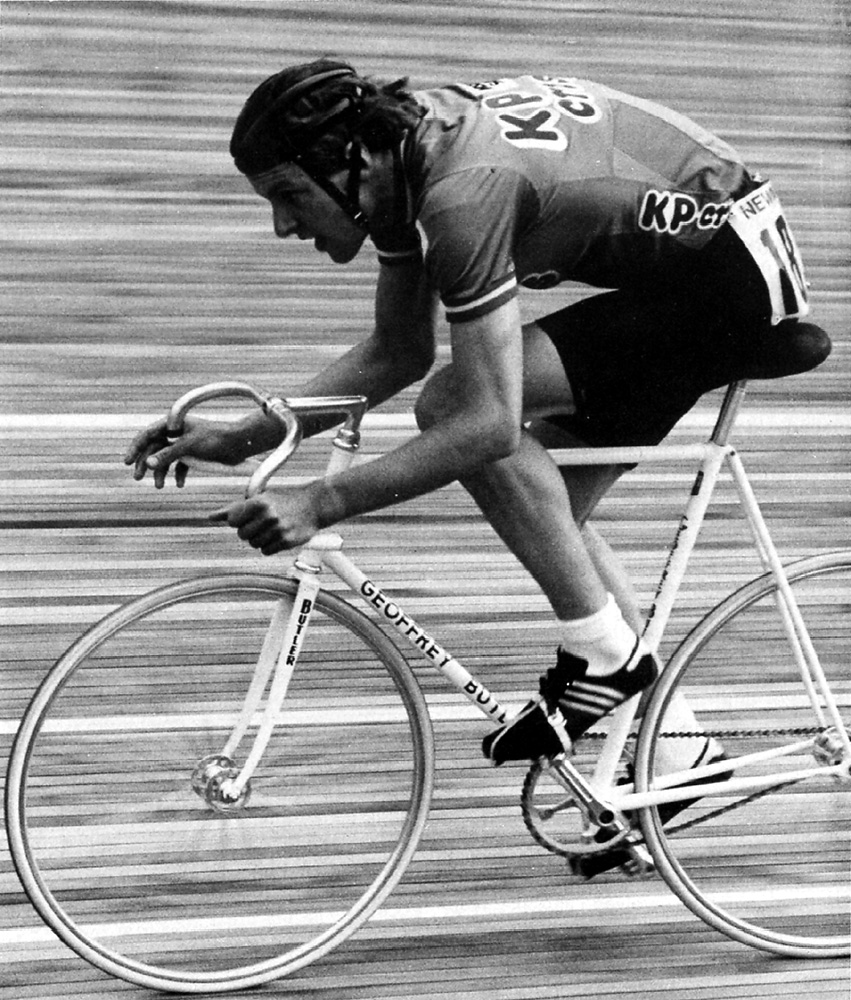 1980 - Tony Doyle won the World Professional Pursuit Championship at Besancon. The story of his victory had a dramatic background, for he had travelled to the Moscow Olympics one month earlier, but was not selected to ride the individual pursuit, despite being British National Champion at this discipline. He made his feelings clear by immediately turning professional and taking the world title. Doyle would go to become the most successful British rider ever in the International Six-Day circuit.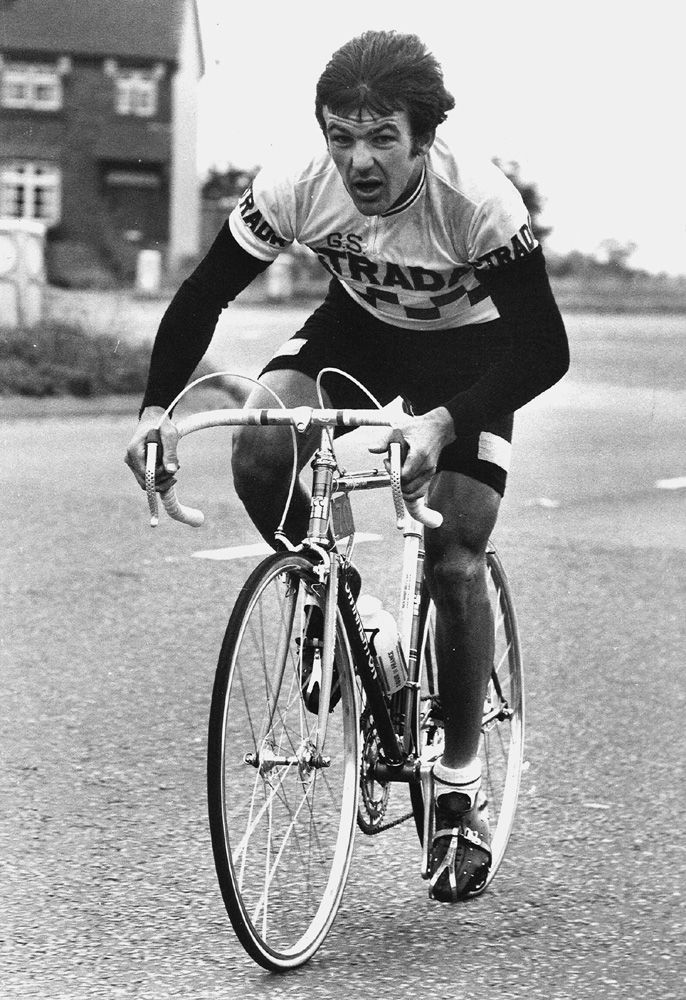 1979 - Paul Carbutt broke the End-to-End record in a courageous ride, during which he collapsed, virtually unconscious with heat exhaustion, but pulled himself round to finish in 1:23:23. Carbutt had been BBAR champion in 1976, a highly-placed Milk Race rider, then turned professional for Viking.
1978 - Leslie C. Warner received the award for his dedicated work over several decades in the interests and cyclists and in defence of their rights.
1977 - Arthur Campbell was one of the sport's senior administrators, President of the Scottish Cyclists Union and the of the British Cycling Federation. He was appointed chairman of the UCI's technical commission in 1977. In the 1940s Campbell had raced as a roadman in the pioneer days of the BLRC.
1976 - Ron White was given the award for his efforts over many years to have a cycle track built in Harlow, Essex. This became a reality and was opened in 1976.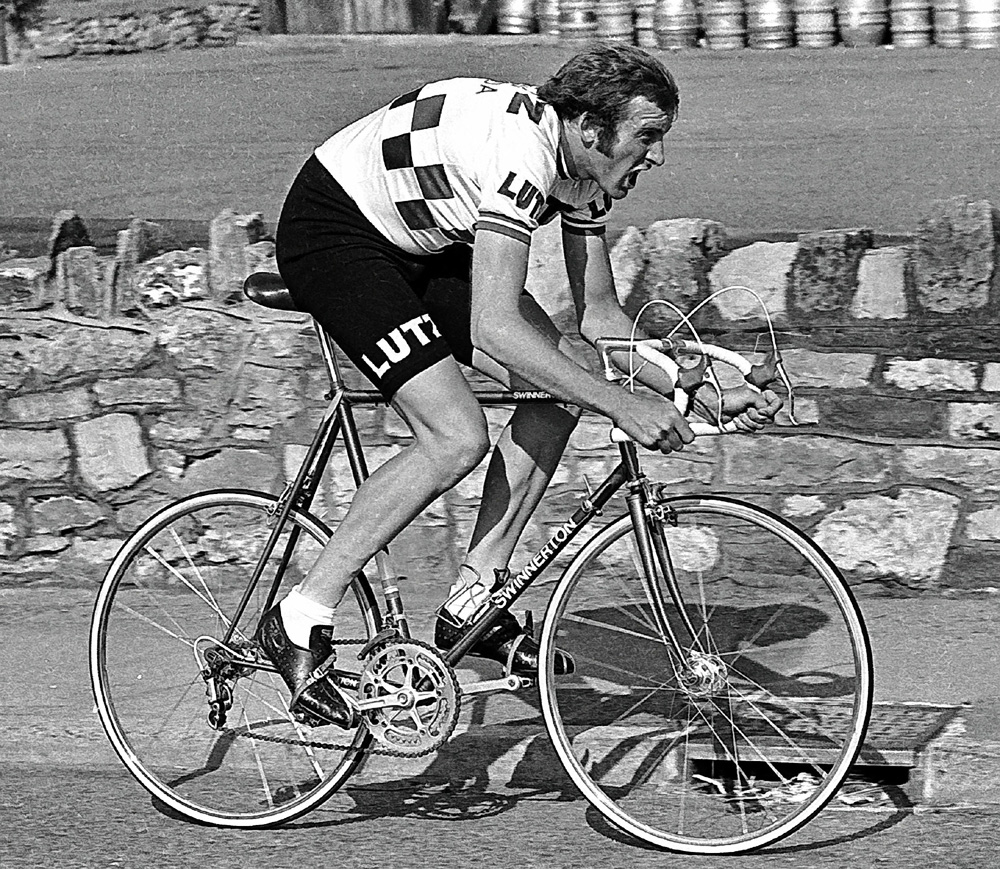 1975 - Phil Griffiths had showed himself to be the dominant time-triallist of the 1970s at the BAR distances, by taking three BAR titles, two of them in succession. He would win two more BBAR titles, as well as many National Championships, and breaking many RTTC and RRA records.
1974 - There was no award.
1973 - William H. Townsend had been an outstanding administrator in cycle sport for two decades as Chairman of the RTTC. In the late 1950s the government of the day was drafting new road traffic legislation, and it was thanks to Will Townsend's representations that time-trialling, although taking place on public roads, was able to kept its special position outside police control, with no official permission required to stage one.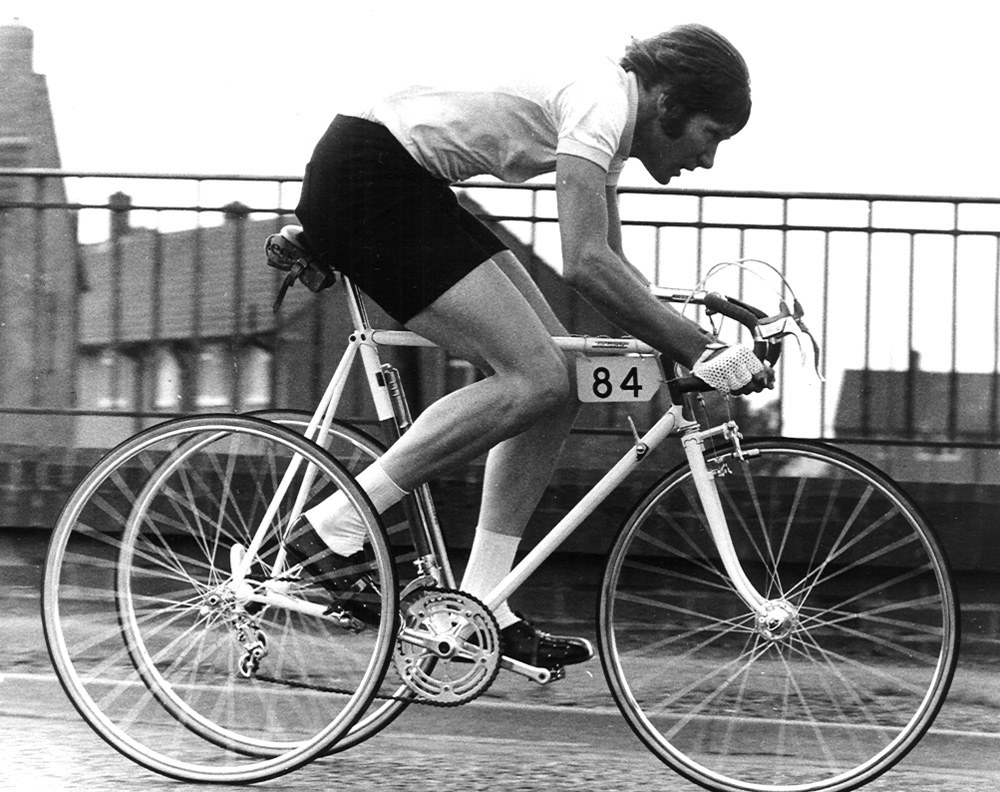 1972 - Eric Tremaine set a new 24-hour trike record of 457.89 miles, at last up-dating John Arnold's 19-year-old time. It's worth remembering however, that Tremaine added just half a mile to Arnold's figures, for a record which still stands today. Tremaine would later take the End-to-End trike record too.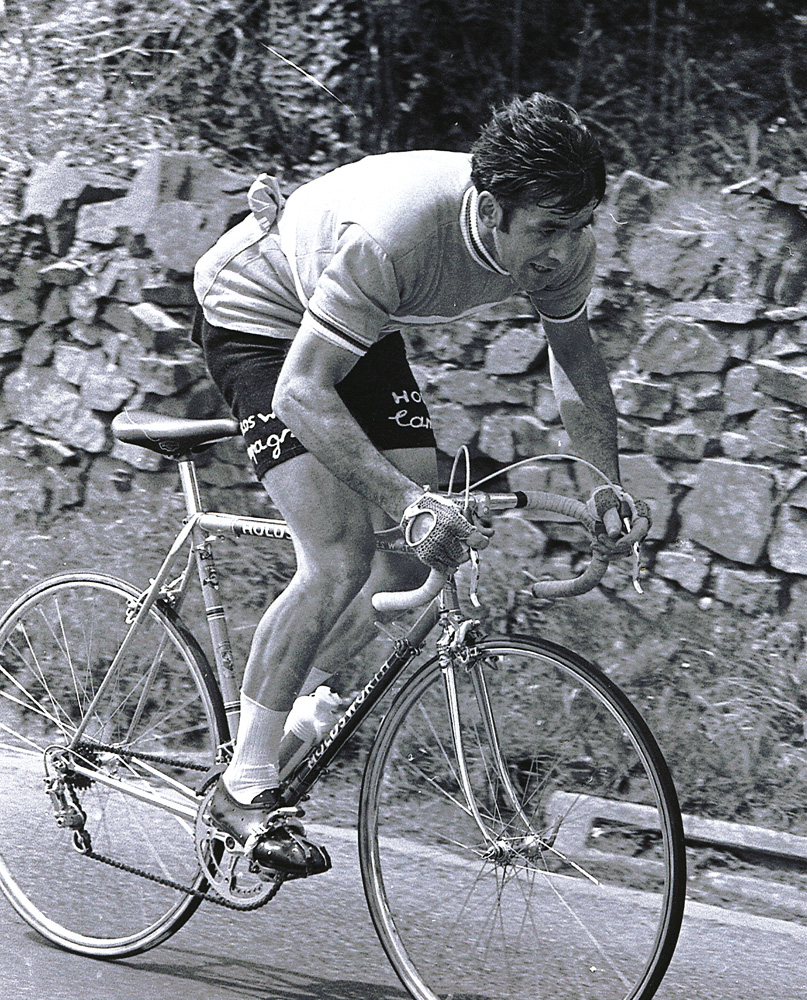 1971 - Les West. It's a strange fact that no Milk Race winner was ever awarded the Bidlake. Bill Bradley won the race twice in succession, and Les West won in 1965 and 1967, but neither of them was chosen. Perhaps the committee felt that they had missed a trick here, for West was given the prize in 1971, nominally for his RRA London-Portsmouth record, but probably in reality for his string of major road-race victories over many years.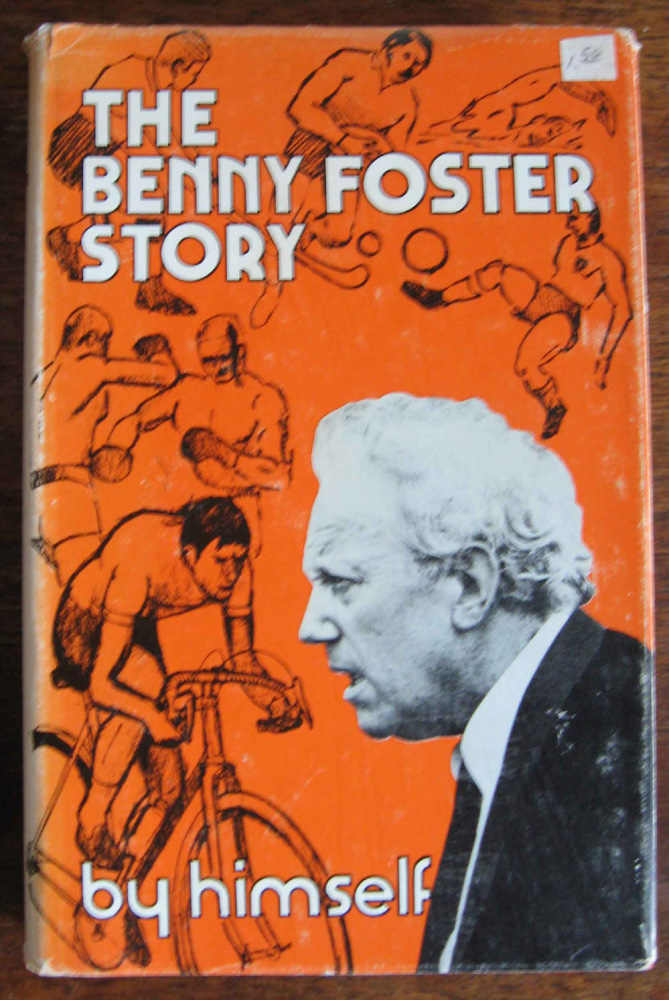 1970 - Benny Foster was recognised for his work as organiser-director of the World Championships in Leicester.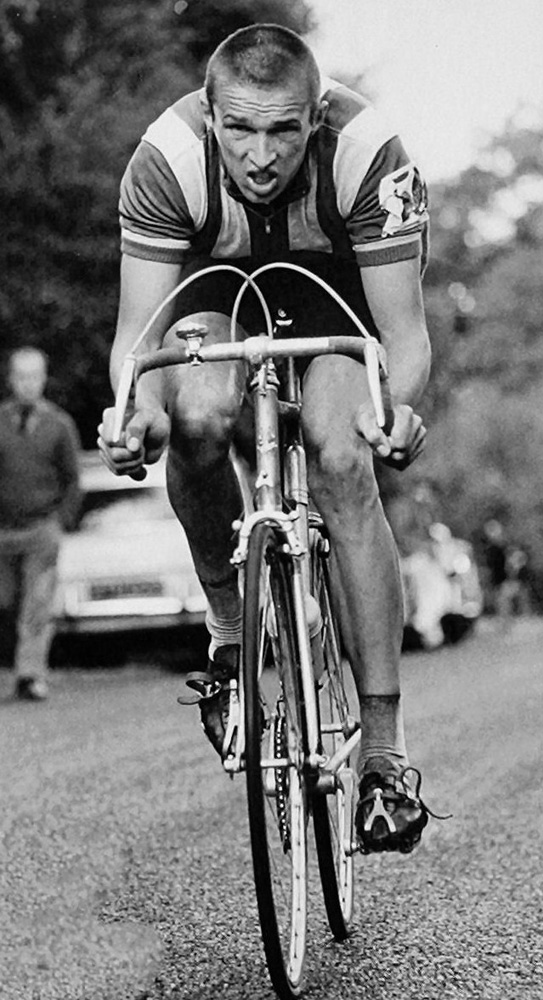 1969 - Roy Cromack brought the Bidlake back to time-trialling when he cracked the toughest of the long-distance barriers, the 500-mile 24-hour ride. He reached 507 miles in brilliantly planned and controlled ride, which was all the more remarkable for being the only 24 he ever rode in his life.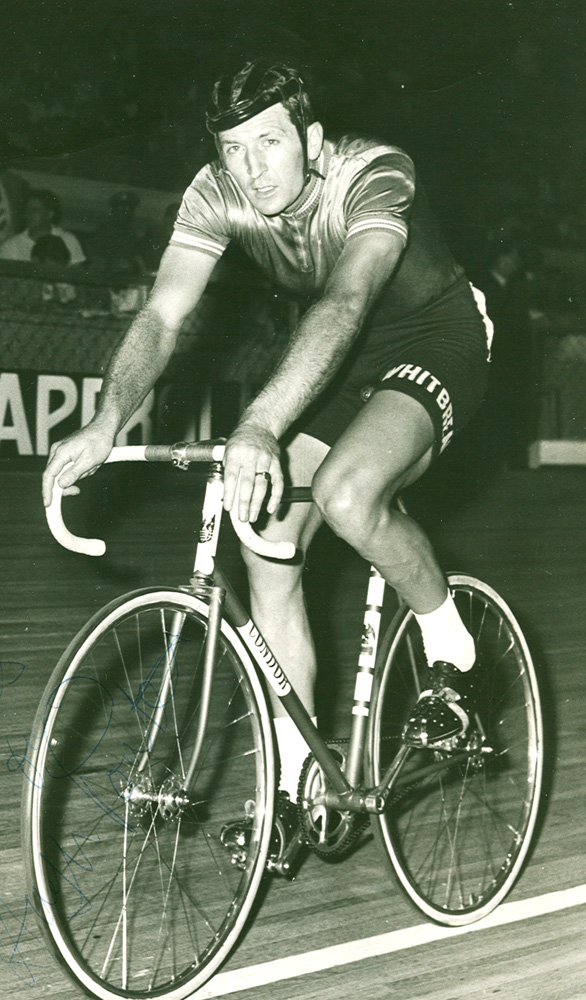 1968 - Hugh Porter continued the run of British track successes at World Championship level, when he took the World Professional Pursuit title in Rome, the first of the four titles which he would win, an unequalled record.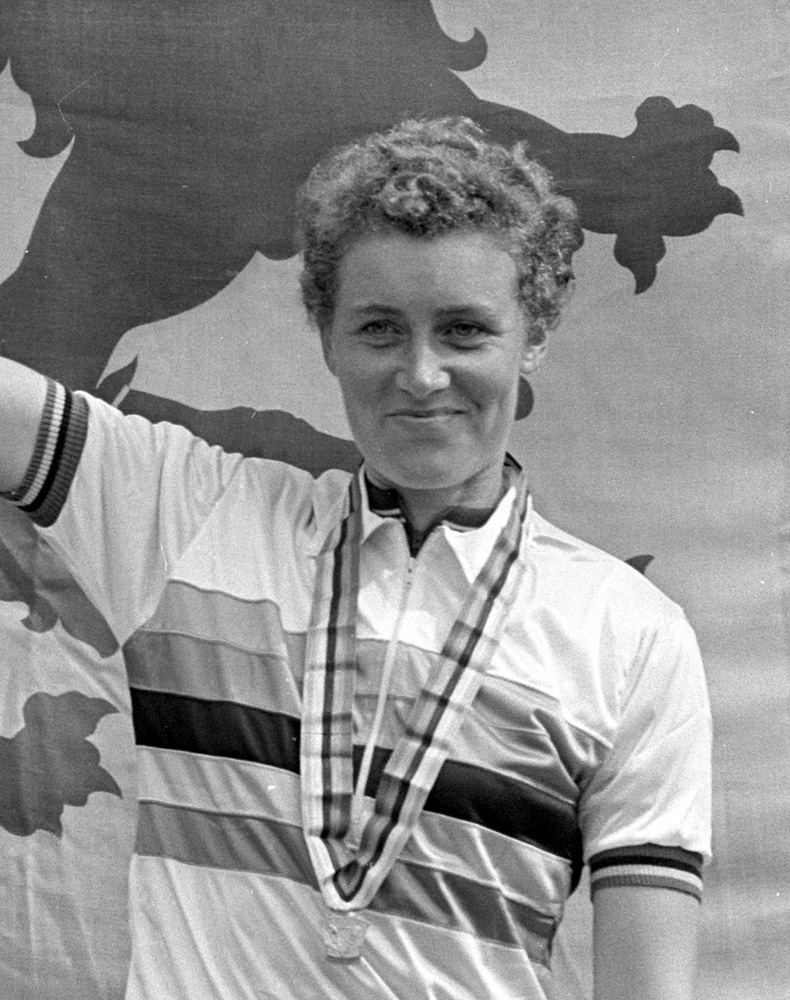 1967 - Beryl Burton was awarded an unprecedented third Bidlake trophy, for her runaway victory in the women's World Road Race Championship, and for her 12-hour time-trial record of 277.5 miles, which also exceeded the men's record – the first time such a thing had ever happened. Given that she had won two Bidlakes already, this was a slightly controversial award. In 1967, Graham Webb had won the men's World Amateur Road Race Championship, while Les West had won his second Milk Race, and both of them had a strong claim on the Bidlake. Since there can only be one award per year, it is clear that in certain years some outstanding performances will go unrecognised.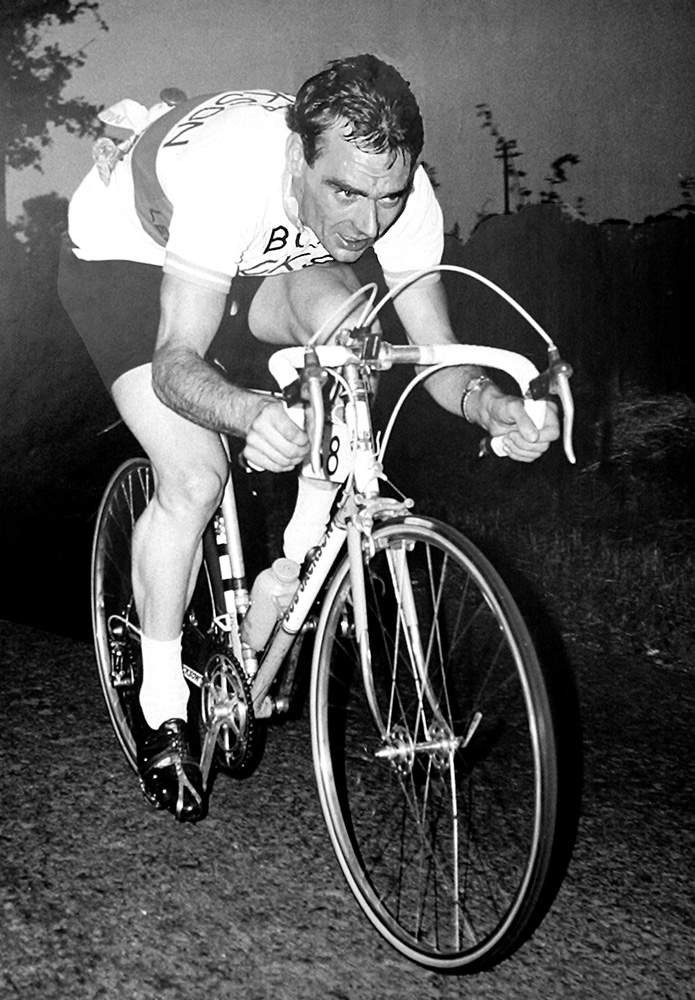 1966 - Arthur Metcalfe was one of the best amateur roadmen in the country, having won the Milk Race in 1964, but in 1966 he did something unique, first winning the National Amateur Road Race Championship, then adding the BBAR title to his record, winning it with three straight rides. He did it to prove a point, that a good roadman could beat the time-triallists at their own game; but whether that really is true or not is still debatable, since no one has ever repeated Metcalfe's double victory.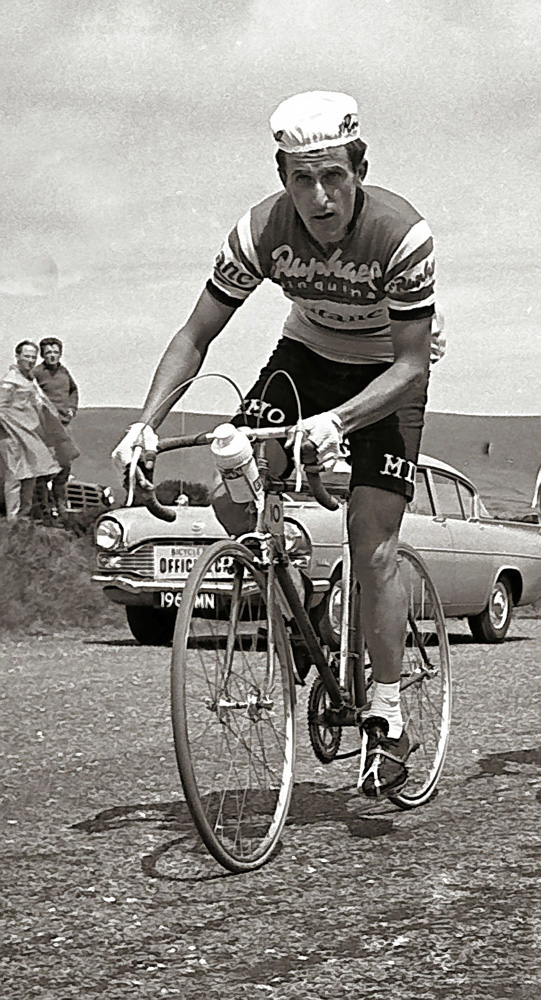 1965 - Tom Simpson was, like Ray Booty in 1956, a certainty for the Bidlake, having become the first-ever British rider to win the World Professional Road Race Championship. He had already won Bordeaux-Paris, the Tour of Flanders and Milan-San Remo, and held the yellow jersey in the Tour de France. He was easily the biggest name in British cycling, the first ever to reach the top in the elite world of European road-racing.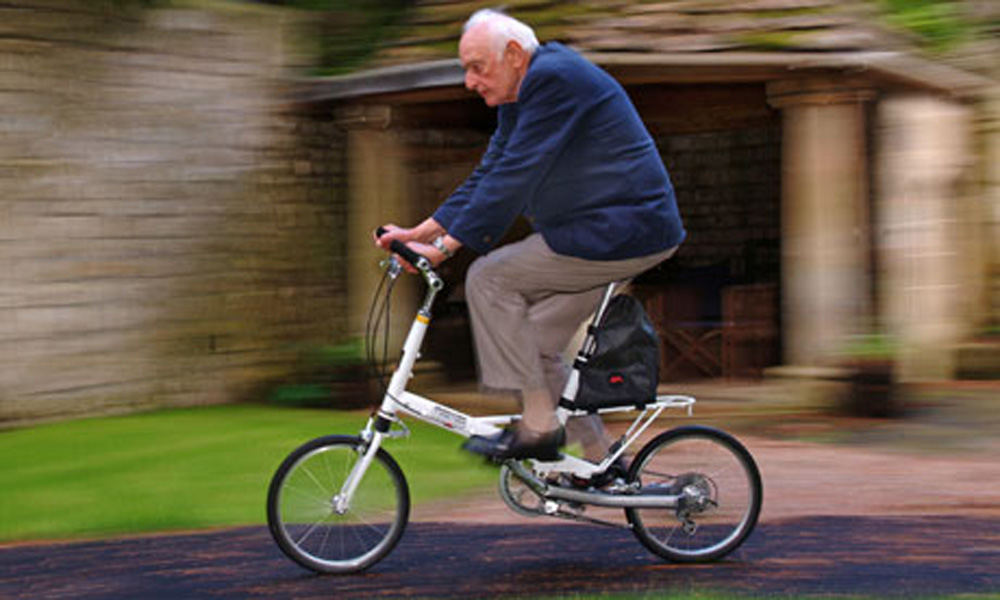 1964 - Alex Moulton had revolutionised bike design the previous year with his new concept of the small-wheeled bicycle with its suspension frame. This was the first entirely new development in bike-building since the safety bike replaced the penny-farthing in the late 1880s. The Moulton was smart, compact, new and neat, ideal for the mood of the sixties and it provided a huge surge of renewed interest in cycling.
1963 - Leslie C. Carter was given the award for his work in devising the National Schoolboys Championship, which culminated in an entry of nearly 2000 riders in this year.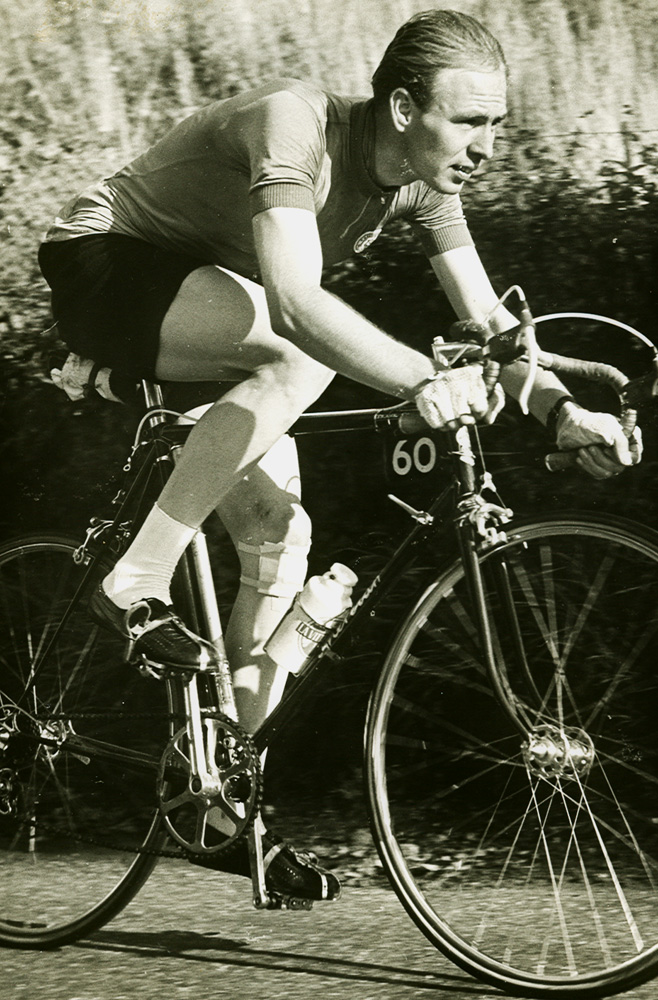 1962 - Frank Colden gave British time-trialling one of its most exciting seasons ever, when he won the BBAR crown with new competition records at 50 and 100 miles, then crashed in the 12, and had to ride again a fortnight later. His 100 on the Bath Road became legendary, as he took four minutes from Booty's record, and became only the second man in the sub-four-hour club. Sadly, following this great season, he slipped out of the sport, having gone as far as he believed possible with new standards of speed, and the sacrifices necessary to achieve them.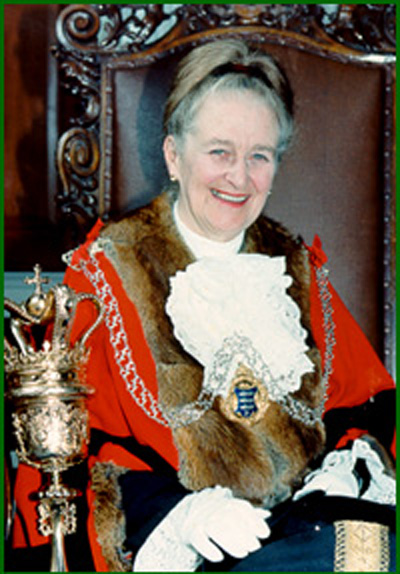 1961 - Eileen Gray was one of the pioneers of women's racing in the 1950s, and president of the Women's Cycle Racing Association. She led the campaign to set up a women's World Championship, which was finally accepted by the U.C.I. in 1958. The championships came to Britain in 1961, but this time Beryl lost her pursuit crown by one tenth of a second.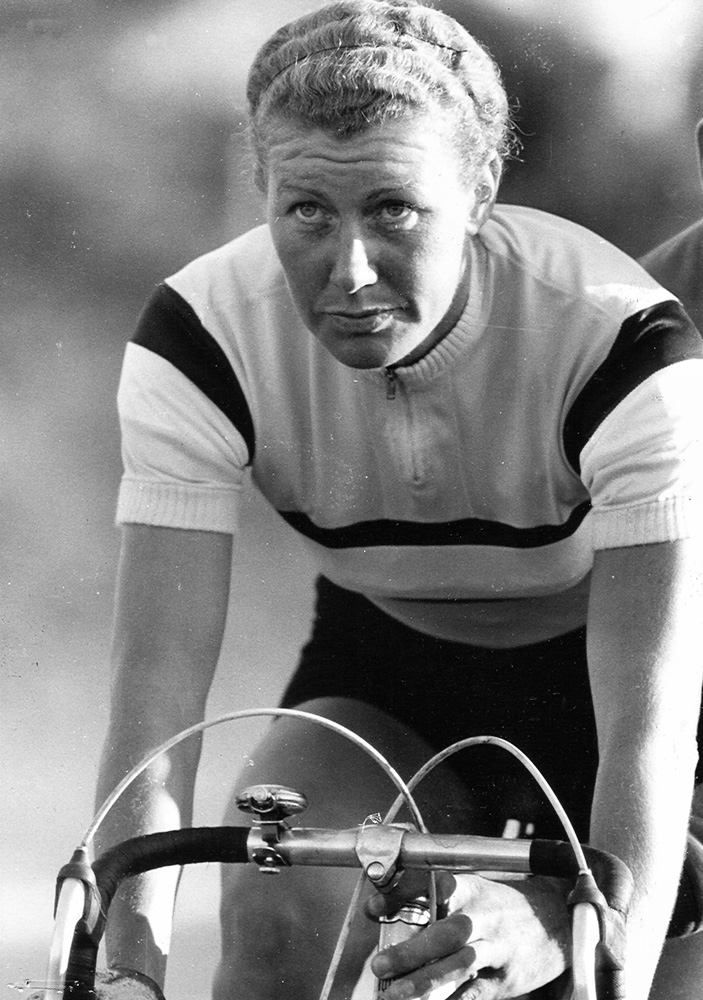 1960 - Beryl Burton's unique ability took her to even greater heights, giving her a double victory in the women's World Championships, in the pursuit again, and in the road race. Once again she made a clean sweep of the domestic competitions, and fully justified an unprecedented second consecutive Bidlake award.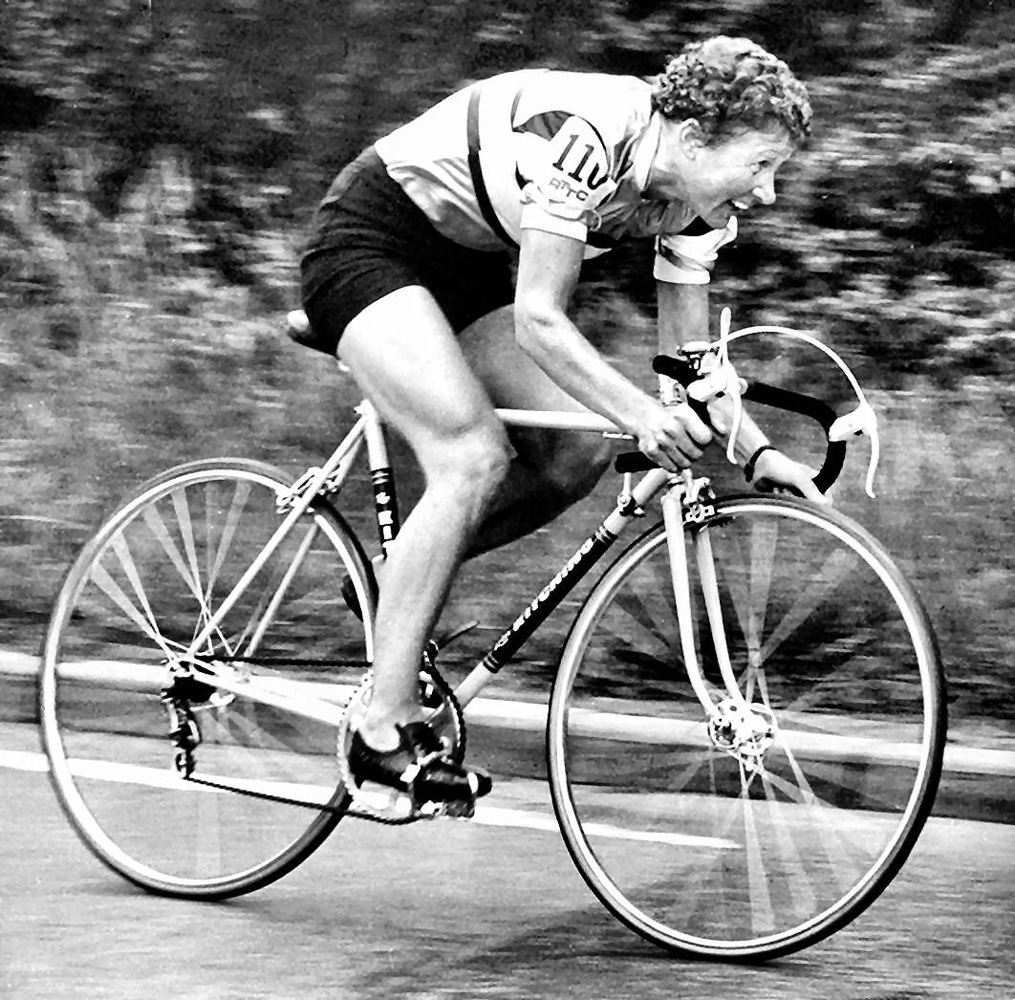 1959 - Beryl Burton had already arrived as a multiple national champion in 1958, and in 1959 she repeated her success in home competition, but she went much further in taking the pursuit title in the women's World Championships.
1958 - Reginald C. Shaw was the founder of the National Safe Cycling Scheme for training child cyclists. In the 1950s children in their thousands used bicycles on the public roads in a way that they no longer seem to do, and Shaw's scheme helped to raise awareness of their safety. He had already been given the MBE for his work.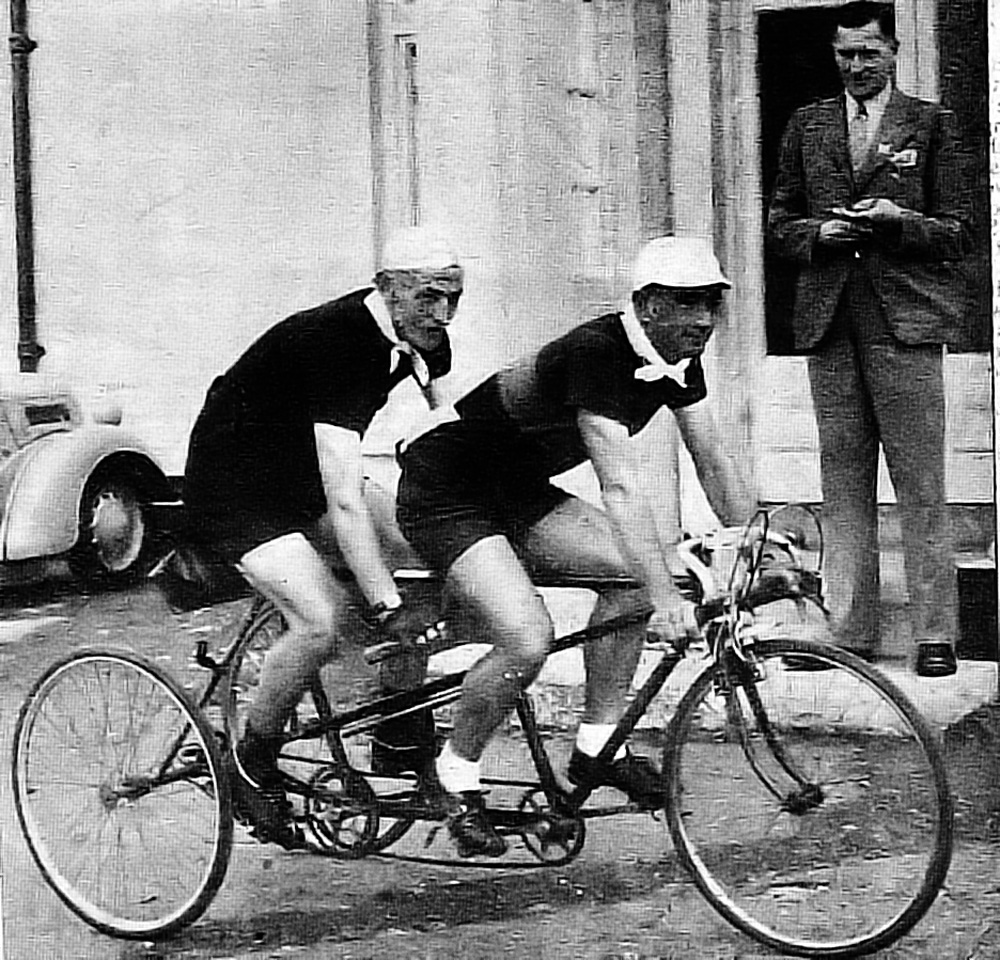 1957 - Albert Crimes was the greatest trike-man in Britain – except for John Arnold. But Arnold was forced out of the sport through injury soon after he and Crimes had set their legendary End-to-End record together on the tandem trike. Crimes continued as a solo rider, and in this year he set a new End-to-End solo trike record. He had not scheduled to go on for the 1000, but in the following year he took that record too, the climax of a great career.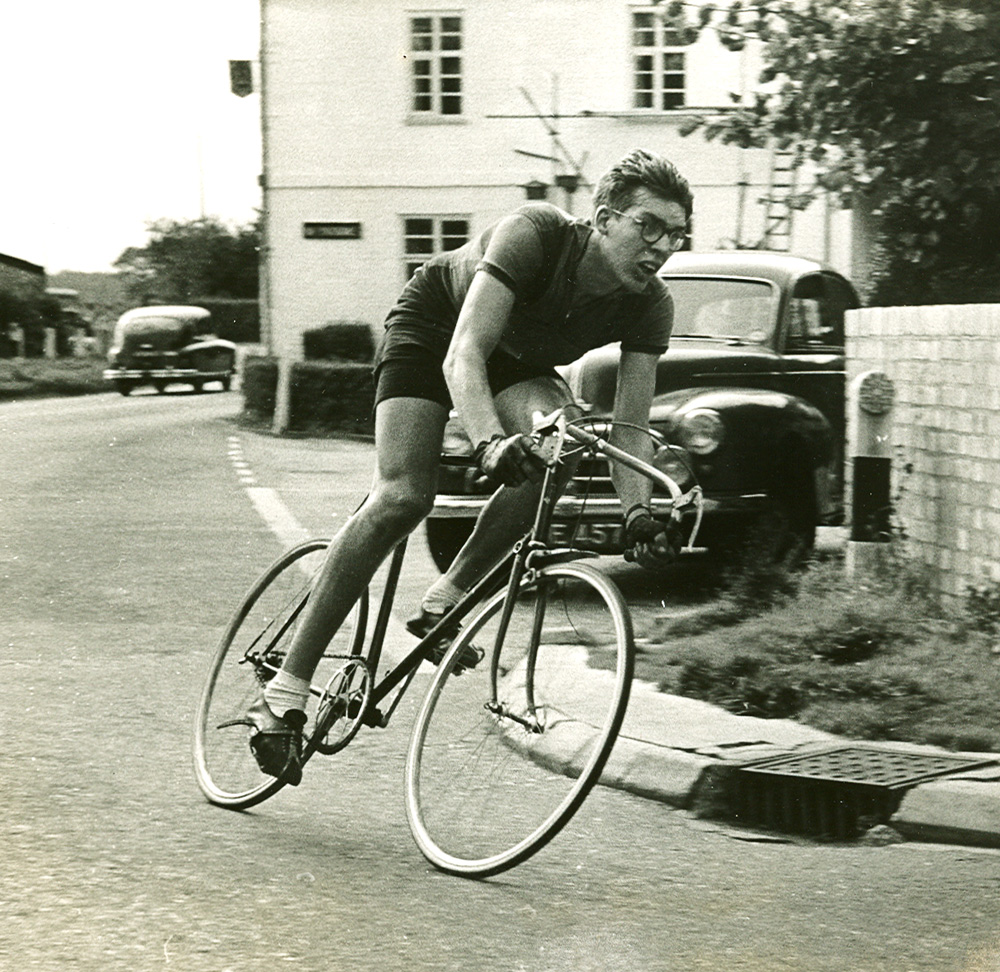 1956 - Ray Booty. If ever a man was a stone-cold certainty for the Bidlake it was Booty in 1956, when he achieved the magic landmark of time-trialling, the first sub-four-hour 100, with his 3:58:28 in the classic Bath Road event in August. A few weeks later he set what seemed an incredible, superhuman straight-out 100 record of 3:28:40. Modest, humorous, relaxed, but for many years invincible, Booty was a unique figure in British time-trialling, and a giant of the sport.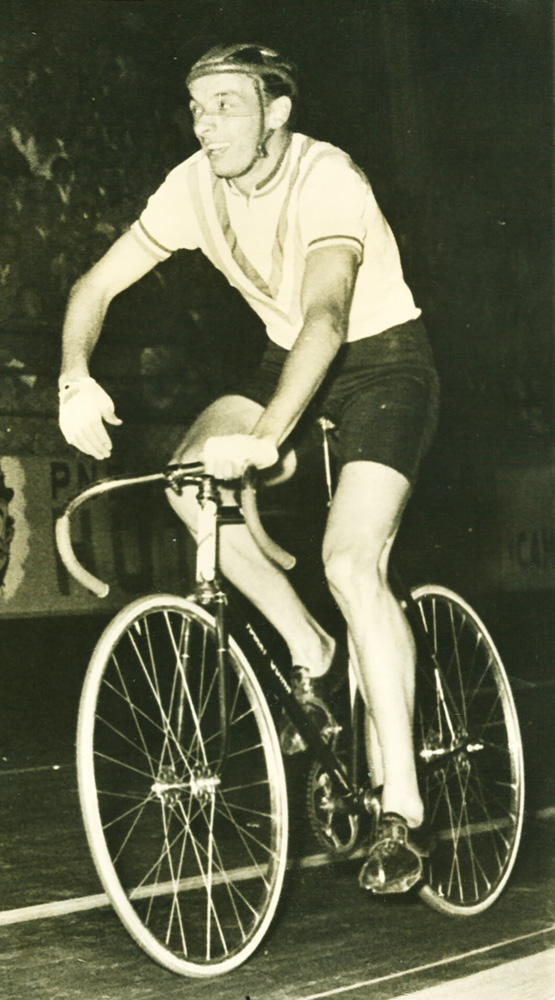 1955 - Norman Sheil. The 1950s were great days for British pursuiting, and no one went higher than Shiel, who won the world amateur title on the famous Vigorelli track at Milan. It is sometimes forgotten that the final was an all-British affair, with Pete Brotherton taking the silver medal. In the following year, Sheil lost his way a little, but came back for a second world title in 1958. He was also a double gold medallist at the Commonwealth Games - in 1954 and 1958.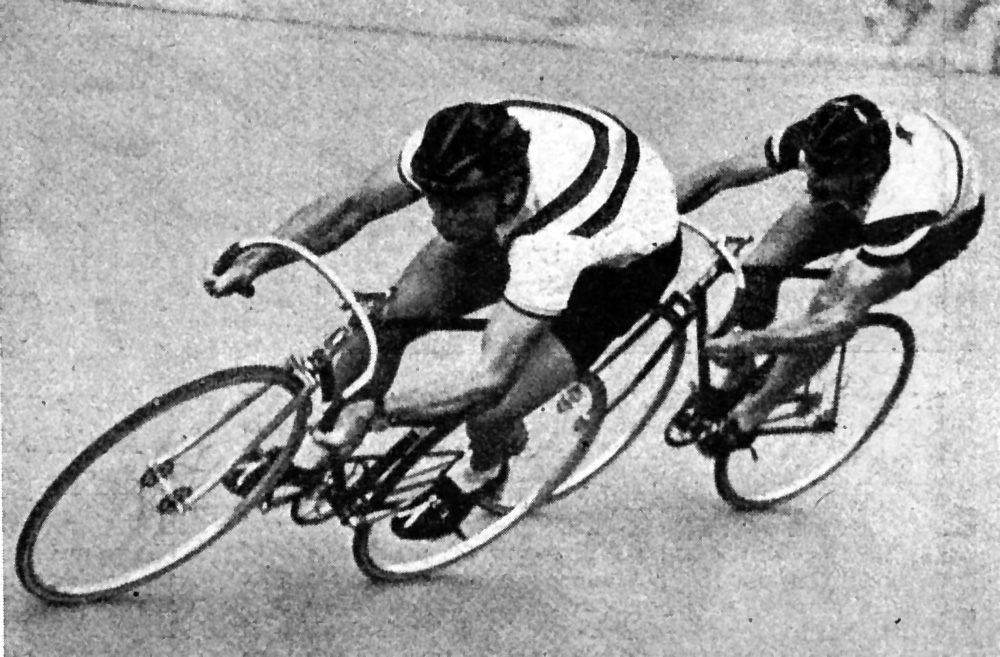 1954 - Cyril Peacock won the World Amateur Sprint Championship in Cologne, and after turning professional he was inevitably seen as the next Reg Harris. However, Peacock failed to score a single significant victory, and retired two years later. He was a World Champion who is remembered, ironically, as a failure because nothing comparable followed his great victory.
1953 - John Arnold. The National 24-hour championship this year witnessed one of the most remarkable results ever seen, when Phil Carter won the event by just two miles from Arnold, riding a trike. Arnold's figures of 457.33 added a staggering 35 miles to the existing trike record of the time. In 1954 Arnold would team up with Albert Crimes to set an End-to-End record on the tandem trike which may perhaps never be beaten.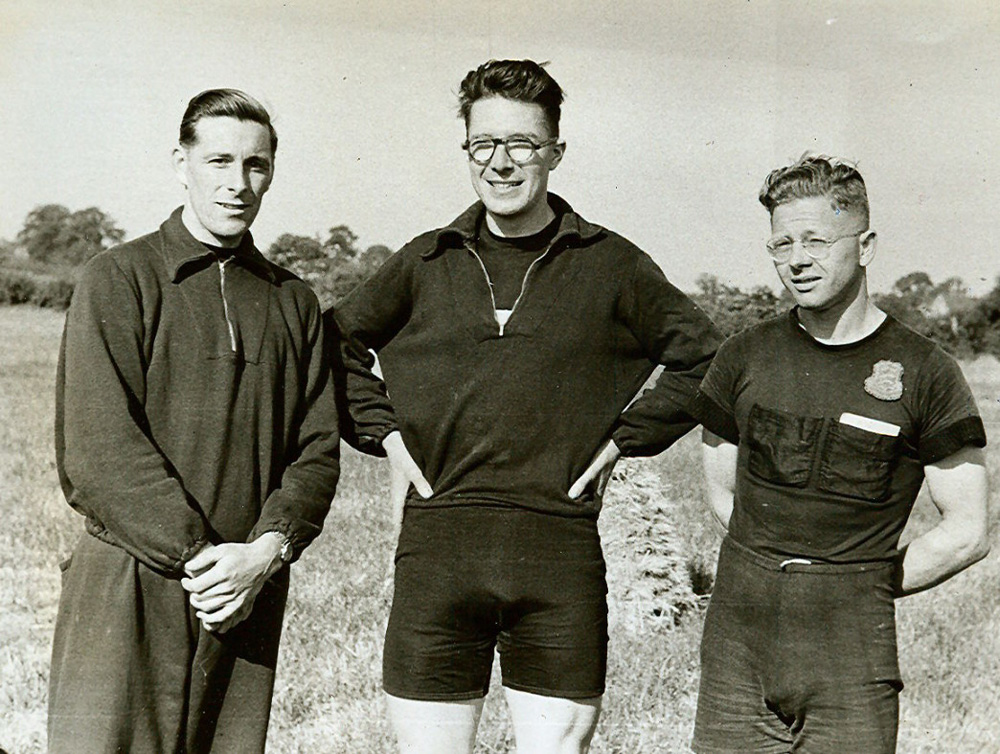 1952 - Keith Bentley was a specialist 50-miler, who in this year won the National Championship and broke competition record twice. He put up four of the five fastest 50-mile times of the year.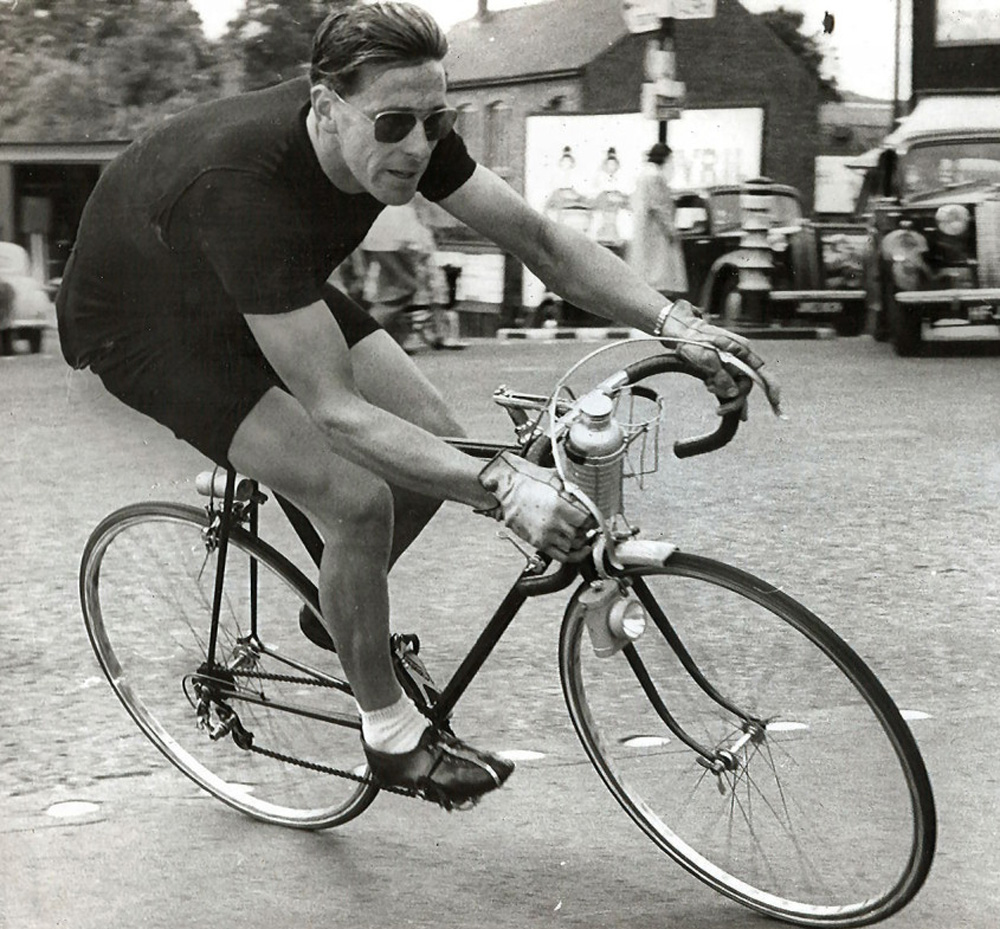 1951 - Ken Joy's career ran parallel with Eileen Sheridan's. He won the BBAR competition four times in succession from 1949-52, the first man since Southall to win it more than once. Like Eileen he won multiple national championships and set multiple records, then he too turned pro for Hercules and set many RRA records. Outstanding among these was his Liverpool-London, finishing inside 8 hours for the more than 200 miles, figures which still stand today.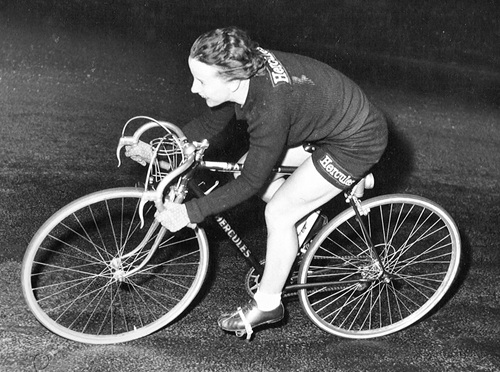 1950 - Eileen Sheridan was the great star of post-war women's cycling, taking the women's BAR in 1949 and 1950, and numerous records and national championships on the way. She was an obvious choice for the Bidlake, but had she not won it in 1950 she would certainly have got it later, for she rode as a professional for Hercules from 1952 to 1954 and broke every single women's RRA record in the book, breaking those that Marguerite Wilson had set up.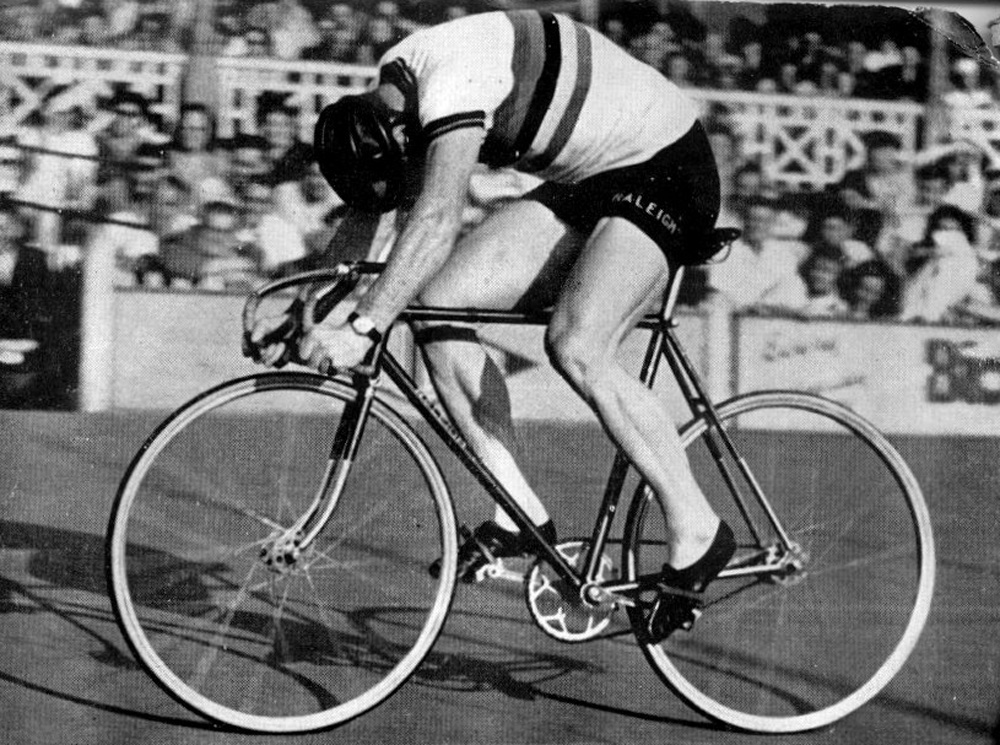 1949 - Reg Harris was the first person to be given two Bidlake awards. He had turned professional after the London Olympics, and in his first pro season he added the professional world title to his amateur one. He would add three more pro world titles during his career. In terms of sheer speed he was virtually unbeatable, but he was less happy with three- and four-up matches, otherwise he might have won even more.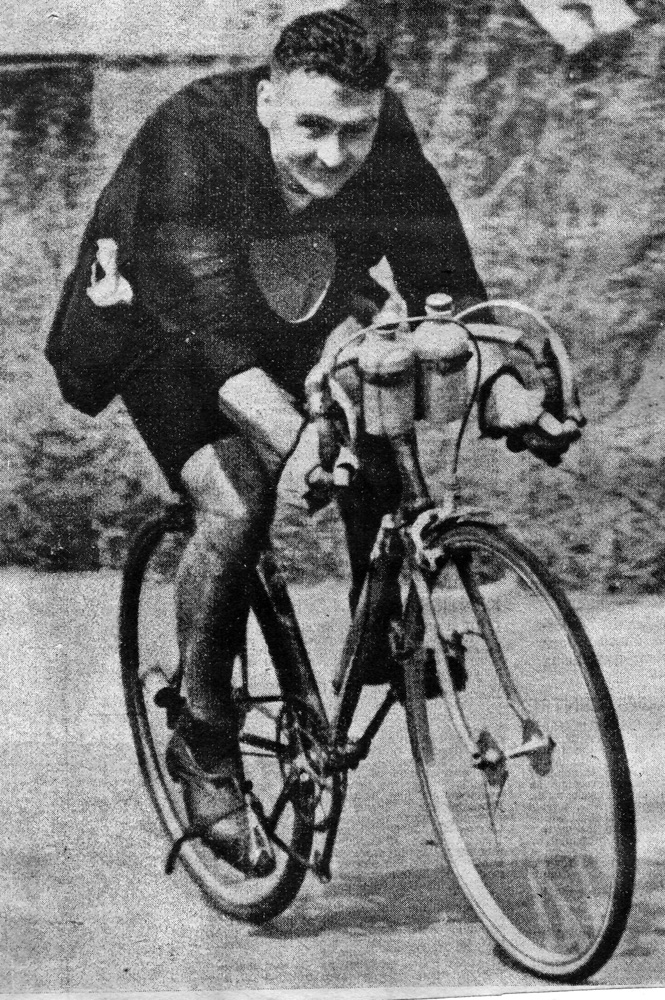 1948 - Gordon Basham of the Wessex RC won the first-ever National 24-hour Championship, setting a magnificent new competition record in the process of 454.37 miles, adding almost 10 miles to the previous figures. Basham was notable for drinking several pints of beer during his ride, but he always emphasised that it was mild beer.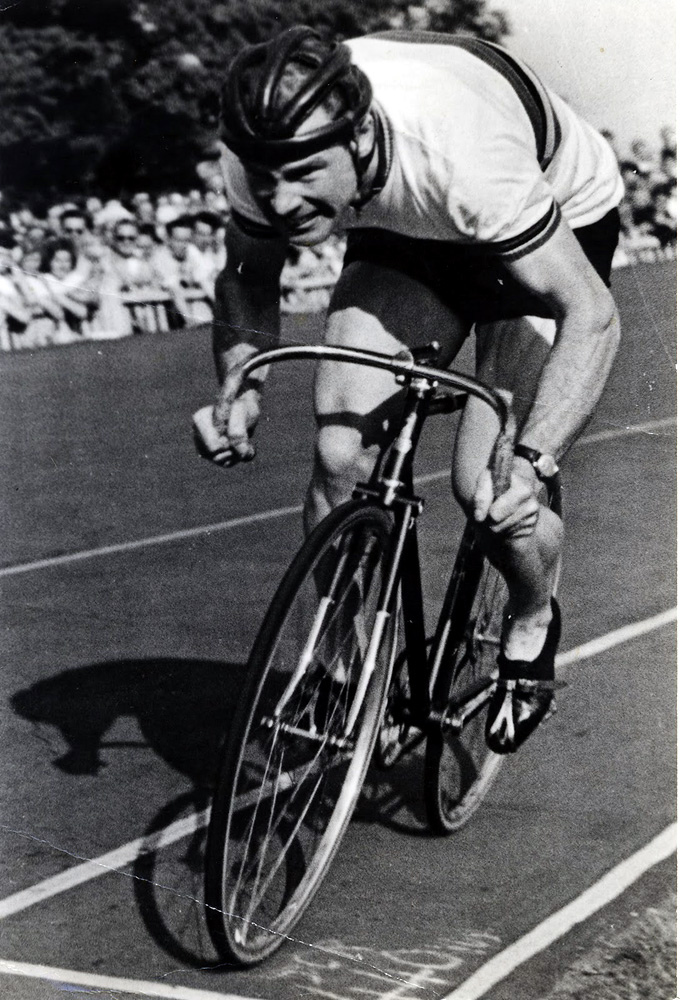 1947 - When Reg Harris won the World Amateur Sprint title in Paris, British cycling was thrilled to have a British world champion at last, the first since 1922. Harris would soon go on to become still more celebrated, and a household name in this country. Throughout the 1950s, any cyclist moving at speed on the roads of Britain was likely to hear calls of, "Who do you think you are, Reg Harris?" He was seen as a near-certainty for an Olympic gold in London in 1948, but finished with the silver medal, following injuries in a car crash just before the Games.
1946 - Albert Derbyshire. It took a long time for a BAR champion to be given the Bidlake. The competition had been founded in 1930, but it was 1946 before Derbyshire was honoured by the Bidlake committee. Derbyshire had already won a slimmed-down version of the competition run in 1944, but in 1945 Jock Allison won the first full post-war edition. Since he was the first Scotsman (and still the only one) ever to win it, and was only twenty years old, this young coal-miner might perhaps have been given the Bidlake in 1945, but he was not. However in 1946 Derbyshire's superiority in time-trialling was complete: he won three national championships and the BBAR, and broke competition records in the 50 and the 100. He would take the BBAR title again in 1947.
1945 - There was no award.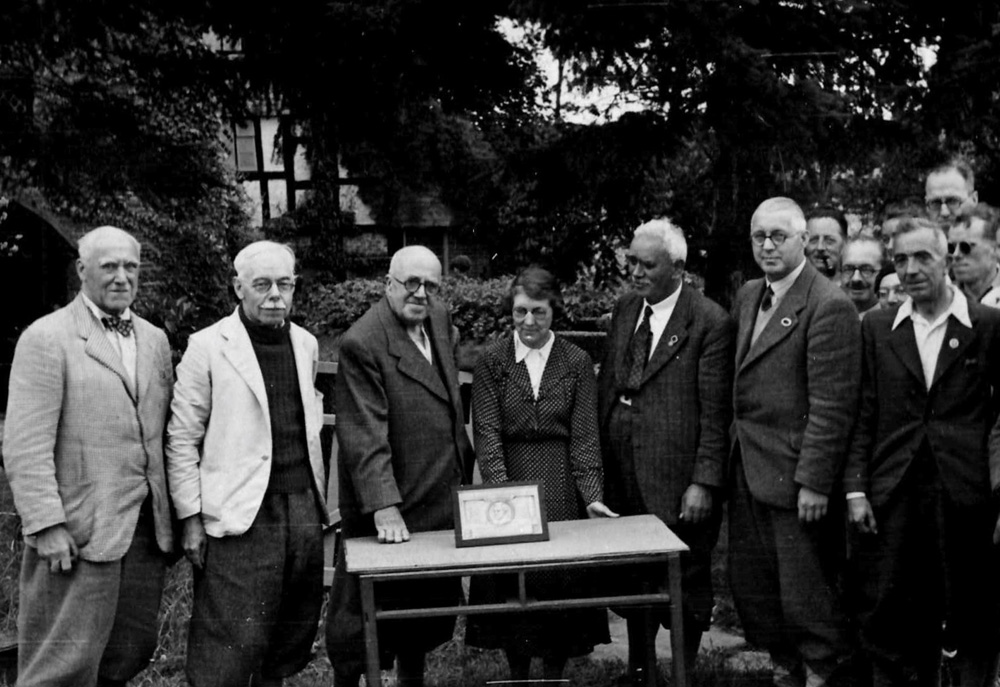 1944 - Frank Patterson.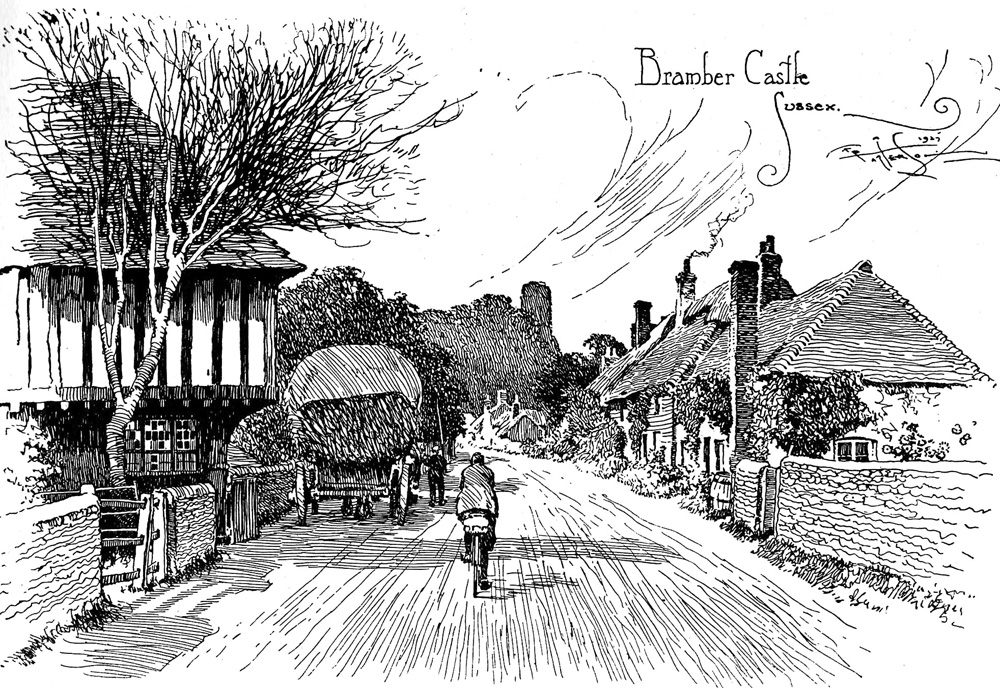 This year's award was to a man whose contribution to cycling was truly unique, yet in a way detached from it. Frank Patterson was superb graphic artist, whose drawings of cycling subjects had appeared in Cycling magazine for 51 years. His pictures showed racing and touring cyclists against the background of Britain's countryside: the open road, wooded hillsides, delightful villages, picturesque old inns and tea-shops, rivers flowing under ancient bridges, summer sunshine, rainstorms and snow-scenes. His work presented an idyllic picture of Britain which was unrealistic in that it was so selective, but it inspired thousands of urban cyclists to go out and explore the countryside, looking for scenes like those which he drew. Patterson himself was a strange, reclusive man, who was certainly not an active cyclist himself, except in his younger days, but his work was much-loved and inspirational through two generations.
1943 - George Herbert Stancer. It was another establishment figure who took the award: G.H.Stancer was regarded as the elder statesman of British cycling, the position that Bidlake himself had held until his death. He was the editor of Cycling magazine from 1910 to 1920, the Secretary of the CTC from 1920 onwards, and President of the Road Records Association from 1936. He also happened to be Chairman of the Bidlake Trust itself, and one may wonder if the committee wasn't showing a certain a lack of imagination in bestowing this honour on its own Chairman, especially since Frank Urry was also a committee member. Stancer differed from Bidlake in that he had never been a great racing man himself. He did however actively support women's entry into racing, which Bidlake certainly did not.
In 1942 there was no award.
1941 - Arthur Gillott. The very limited wartime racing programme made it natural to look at the field of services to cycling, and the award was presented to Arthur Gillott, bicycle retailer and founder of the Institute of Cycle Traders and Repairers, which aimed to introduce professional standards into the cycle trade.
1940 - There was no award. The war had disrupted not only racing but normal life to such an extent that no decision on a winner could realistically be made. One casualty of the war was the plaques themselves: their manufacture was banned by the Board of Trade, and photographs had to be given, the plaque itself to be awarded later.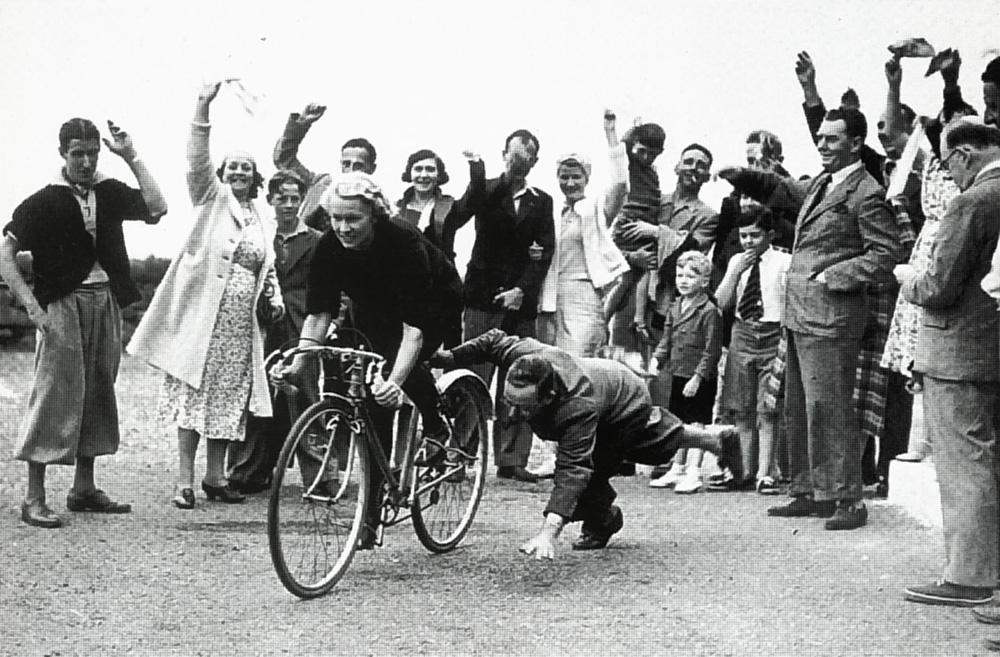 1939 - Marguerite Wilson. At the end of 1938 the rules of Bidlake award were amended to make it clear that women were eligible for the award. This was probably no accident, for Marguerite Wilson had just turned professional for Hercules, and during 1939 she proceeded to re-write the record books of the Women's RRA, breaking no less than eleven records. The award was made specifically for her End-to-End and 1000-mile rides. Marguerite was the "blond bombshell" of English cycling, attractive and vivacious, and also immensely strong. She would break more records the following year, before the war ended her career prematurely.
1938 - Frank Urry was honoured for defending the interests of cyclists on the Transport Advisory Council, a governmental body which was attempting to get to grips with road traffic management and road safety. Urry was one of the top-ranking officials who served on many committees, and one of cycling's establishment, and it is slightly surprising that Shake Earnshaw was not preferred, for the brilliant record-breaking rides that gave him his clear victory in the BAR competition this year.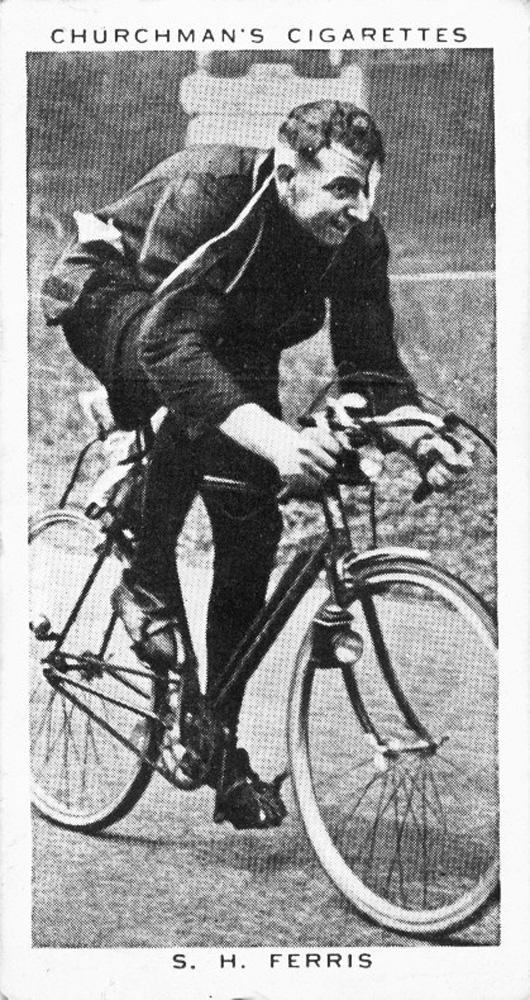 1937 - Syd Ferris. For the second time in three years, the End-to-End record-breaker captured the Bidlake award: Syd Ferris took two and a half hours from Opperman's time. Oppy was a popular character in Britain, but no doubt there was a sigh of satisfaction that this supreme record had been recaptured by a home rider. Ferris also took the 1000-mile record, bringing it inside three days for the first time. Ferris rode as a professional for Sturmey-Archer, and, as well as being a vegetarian, he was a distinctive figure, with an eye-patch over his left eye.
1936 - Edward Southcott. This was the first award for services to cycling rather than racing, and the recipient was Edward Southcott, for his services to the British cycling team that went to the Berlin Olympics. This was something very strange about this award, for it was never explained in public exactly what Southcott had done, but a number of people knew the truth and eventually it leaked out. Apparently when the track team unpacked their equipment, they found that virtually every one of their racing tubs was faulty and could not be used. Southcott, who was President of the Catford CC, was in Berlin as part of the judging panel. He was immediately dispatched back to England to buy a new consignment of tubs and return as fast as he could to save the situation. This was quite a little adventure, but one has to wonder if it was worthy of a Bidlake Prize. And why were the Trust so coy about it, why could the truth not be told? Britain's only real success at the Games was a bronze medal on the track in the team pursuit, where the fours riders were Hill, Johnson, Mills and King. In the road race, Charlie Holland was fifth.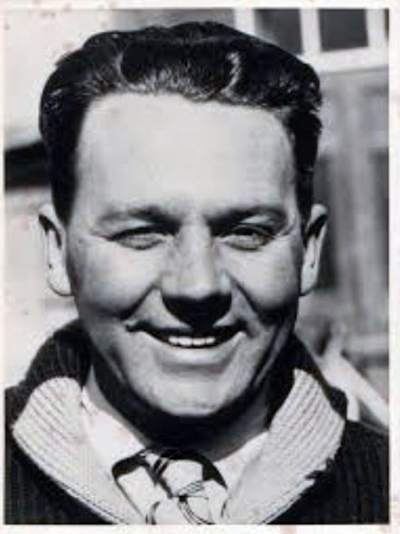 1935 - Frank Southall. Perhaps the Bidlake committee had calculated that there was more to come from the great Frank Southall, and that they would be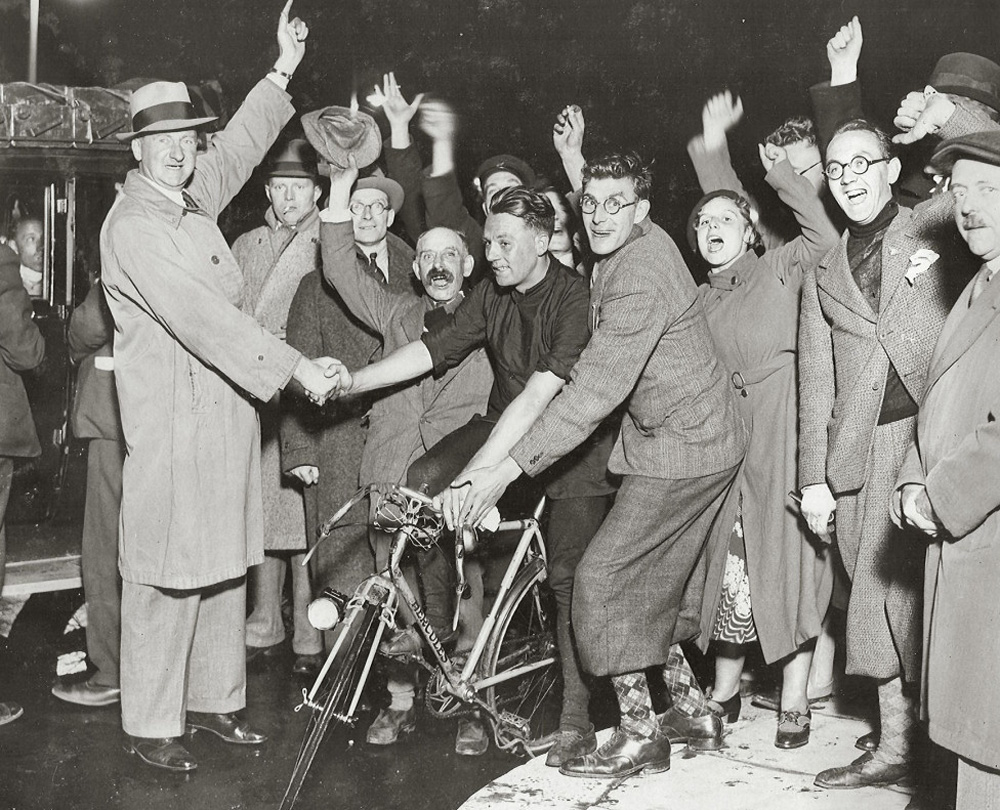 able to honour him in 1935, and this is exactly what happened, but it was a close-run thing. Opperman returned to England, this time with two compatriots, Stuart and Milliken, and the trio proceeded to wipe out many of Southall's records from the previous year. Although only 30 years old, Southall seems to have just passed his peak, for he tried to recapture these records but failed, until at last by a supreme effort he sliced just under a minute from Milliken's London-Brighton-London record. This was the last record-breaking ride of his glittering career, and it was enough to win him the Bidlake, but it had been a tense summer for Southall and his sponsors at Hercules. Although he received the award for his Brighton record, there is not much doubt that he was being honoured for his unrivalled string of victories and records over almost ten years.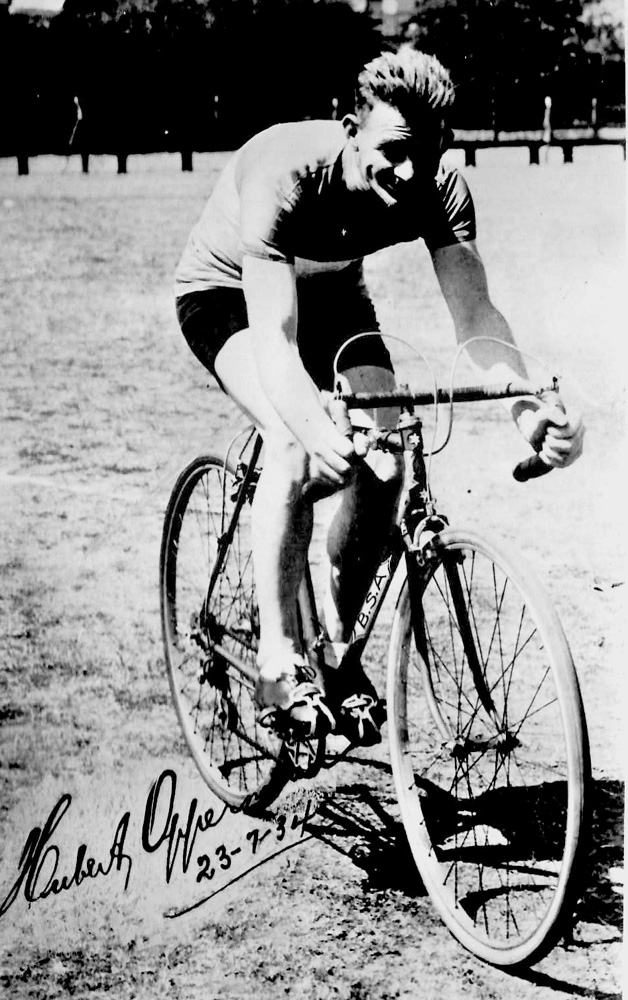 1934 - Hubert Opperman. There can be no doubt that most people in British cycling expected that the first Bidlake award would go to the rider who had dominated the sport for the past ten years, Frank Southall. In 1934 Southall was riding for Hercules as a professional record-breaker and he had enjoyed a great season, setting seven new RRA records, including the first-ever 100 inside four hours. The Bidlake award would have crowned his position as the undoubted king of British cycling. But there was a lion in his path in the form of Hubert Opperman, who has been brought over from Australia by BSA to challenge Hercules and Southall. "Oppy" as he was known, rewarded them by performing the one great feat that Southall did not and probably could not: he took the End-to-End record, slicing more than four hours from Jack Rossiter's 1929 figures. It was a magnificent ride, after which Oppy went on for the 1000-mile ecord too, and the Bidlake committee took the courageous decision to honour him over Southall. So it was that the award went in its first year to a professional rather than an amateur, and to an overseas figure, something that would not happen again for a long, long time.
Since the first Bidlake award was presented to Hubert Opperman in 1934, the world of British cycling has clearly changed out of all recognition. The committee in those early days cannot have imagined that the award would ever be given to British world champions or Tour de France winners, in fact they would probably never have considered that a British rider would even take part in the Tour. They probably did not foresee that so many women would feature in the list either. In one way however, the Bidlake was ahead of its time in being open to amateurs and professionals alike. It has always been generous too in recognising the work of behind-the-scenes figures in the sport, as well as the great riders. Presenting the award now is more complex than it used to be because the sport has so many facets, and because we live in an intensely publicity-conscious world in which so many achievements clamour for our attention. The Bidlake award has been part of the British cycling scene from its inception. It has been a symbol of excellence which each new winner felt it an honour to be given it, because of all those great riders who had received it in the past. This year we celebrate eighty-six years of the Bidlake Trust, and we look forward with confidence to reaching its centenary.